Learn about the 6clicks risk functionality
Risks
6clicks is built for risk management. The 6clicks risk register is designed to support the full lifecycle of risk management, from assigning risk assessments to creating, tracking and managing risk treatment plans. 6clicks also allows teams to run risk reviews to gather an in-depth risk profile of the organisation, team or department. Run risk reviews using 6clicks' risk libraries which contain hundreds of risks across over forty risk domains, or start with your own.
Risk Register
The 6clicks risk register allows you to manage the full lifecycle of risk. The risk register stores risks that have been identified and added after the risk review process, manually on an ad-hoc basis, imported to the register, or created during an assessment review process. Risk can be linked to your existing internal policies and external standards, laws, and regulations. Treatment plans can also be created and linked to risks to manage remediation. Learn how to add and manage risks here.
Risk Review
Risk reviews allow teams to crowdsource the risks the organisation, team or project face. When respondents complete a review they identify the relevant risks affecting their organisation or business area and provide a risk rating based on the likelihood and potential impact. Risks that are identified and assessed are then added to the risk register for ongoing management and remediation.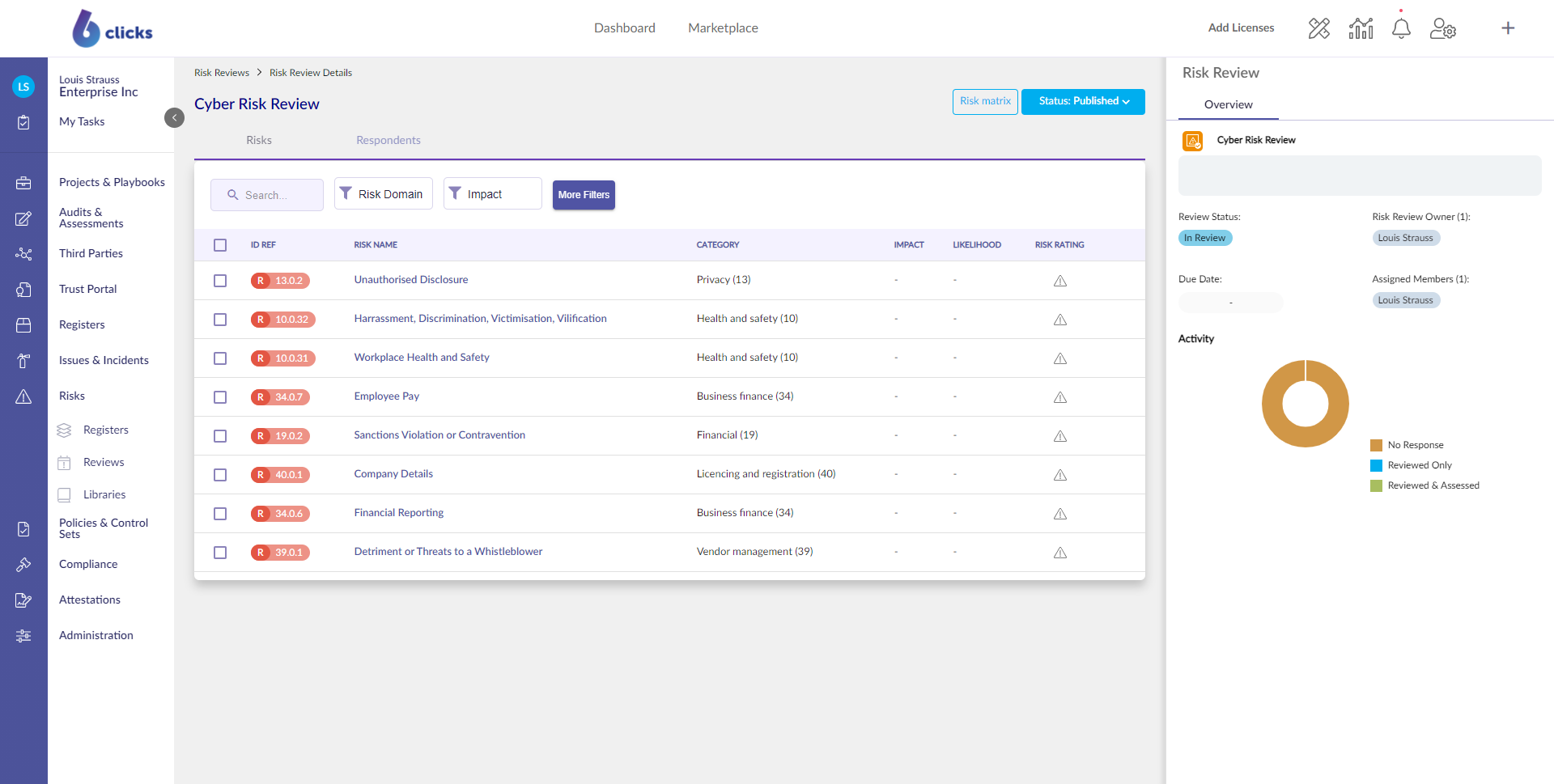 Risk Library
The 6clicks Risk Library includes hundreds of templated risks covering over 40 risk domains. The risk library stores risks that may have a potential impact on the organization. Select the relevant risks from the risk libraries to run your risk reviews with. You can also create your own risk libraries.
Risk Reporting
6clicks offers various risk reporting capabilities, including: