Understand your 6clicks Partner Team: it's key features and capabilities
The following article provides you with the opportunity to explore the 6clicks Partner platform.
Dashboard
When you log into 6clicks you land on your dashboard. From your dashboard, view and manage your clients, view your OneClick Connector, as well as access client instances to support their risk and compliance activities.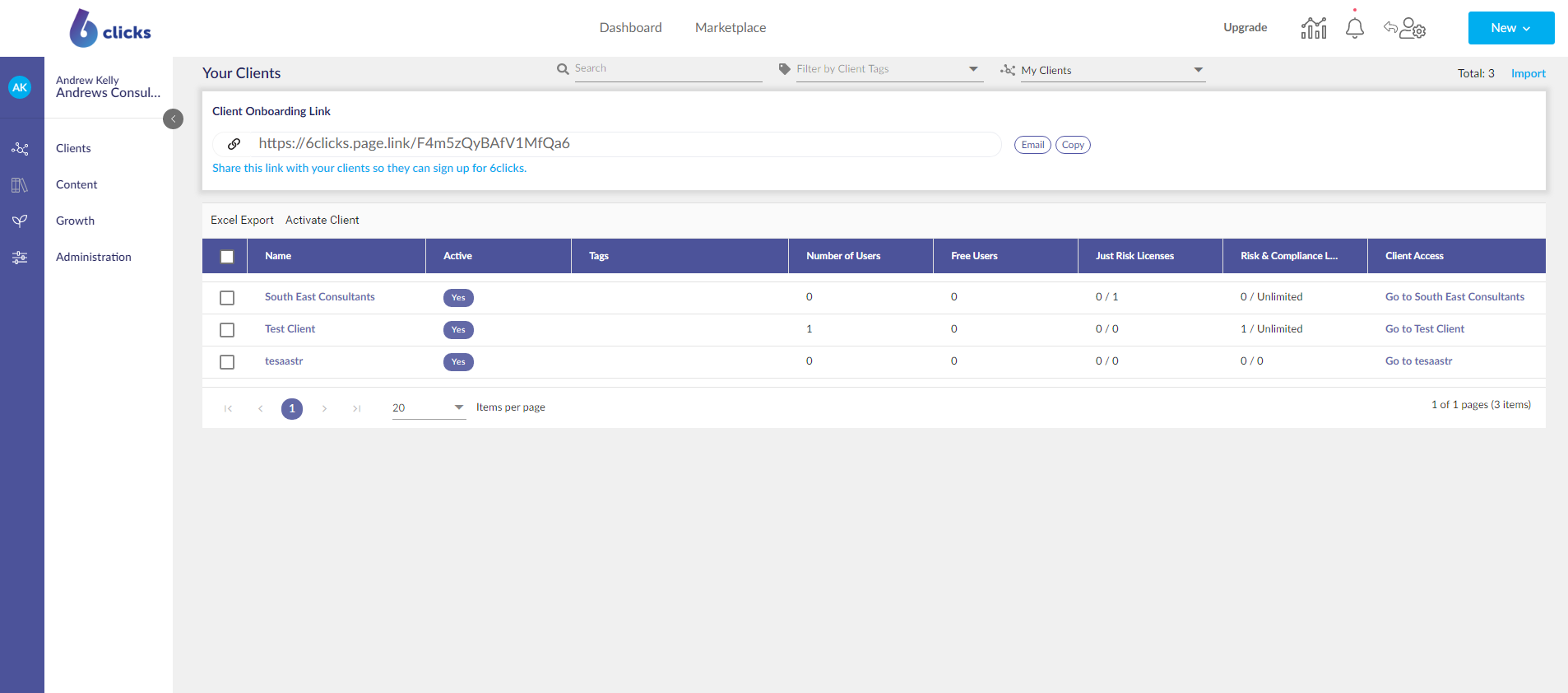 Content Library
Your 6clicks Content Library is designed to be exclusively for your clients, meaning only they will have access to the content you choose to provide to them. You can select content directly from the 6clicks Open Content Library for your clients, or you can add your own content, including Assessments and Control Sets.
All of the 6clicks content is available on the 6clicks Open Content Library . As a Partner, you can add 6clicks content to your exclusive Content Library, or download the content into your partner team and use it to create new content to be uploaded to your exclusive Content Library.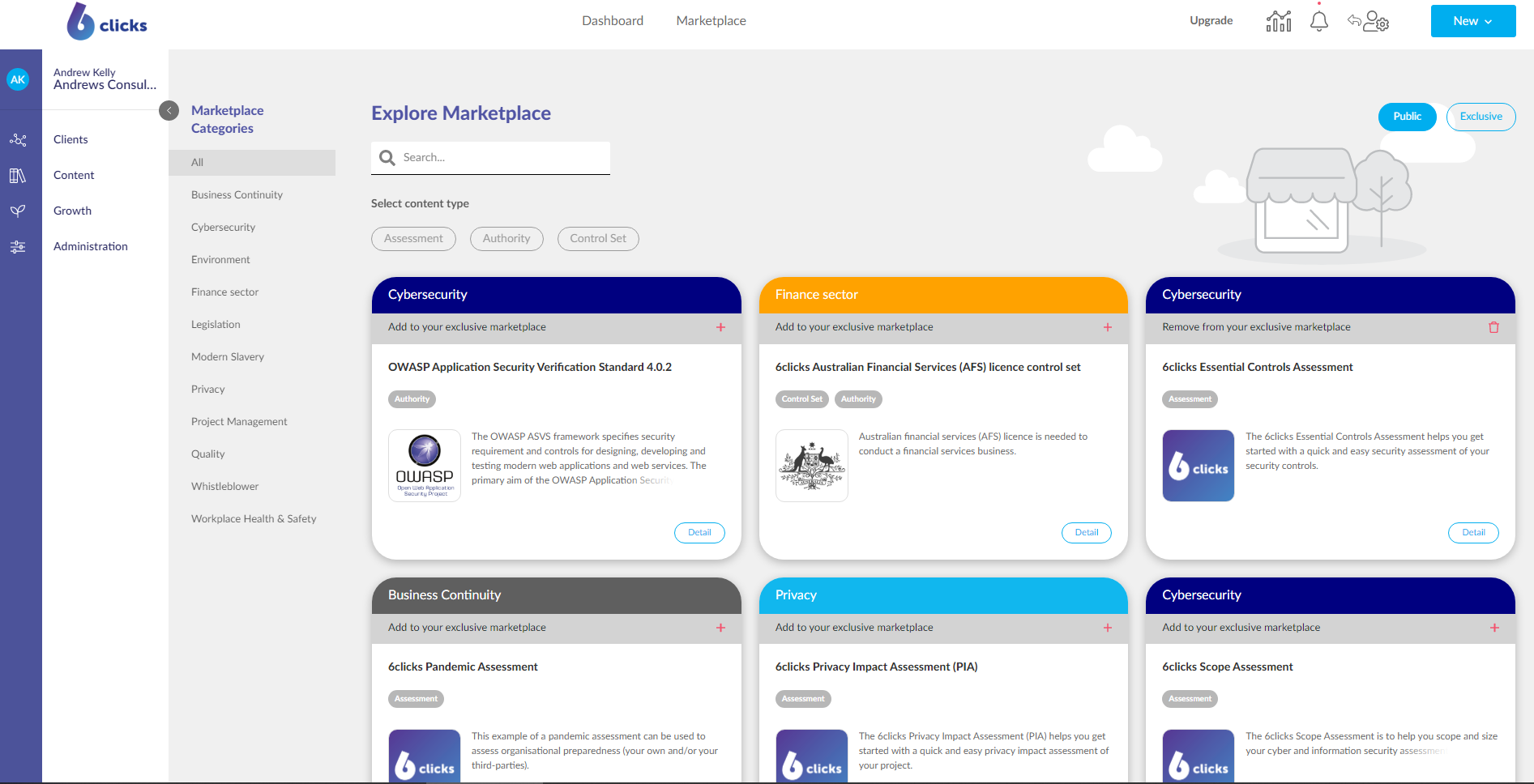 Client Management
Onboarding
Before inviting clients to join the 6clicks platform, partners have the option of setting up their team via custom templates or from scratch to best suit their needs. Once the client's team is ready to go partners can onboard their clients with various methods and start engaging with the 6clicks platform. You can create client teams directly or onboard them via your OneClick Connector or a risk review.
Content
Partner teams are designed purely for client management and content creation. While client teams are for any client-specific activity, such as running assessments and risk management.
Below are a list and a short description of what can be done in the partner team.
Content Creation
Assessment Templates
The Assessment module allows you to create assessment templates, which you can provide to your clients via your exclusive Content Library. Internal assessments or third-party assessments can then be run through your client teams.
6clicks allows you to create two types of assessments:
Requirements Based Assessments: Choose controls or provisions and assess them directly based on defined criteria. Best for running internal audits and maturity assessments with your clients.
Questionnaire Based Assessments: Define questions that link to controls or provisions, select respondents and then review responses once the assessment is complete. Best for running structured or third-party, supply chain assessments.
Polices & Control
The Policy & Control module allows you to view and create your own unique control sets or policies. You can also define action tasks called responsibilities and associate the, to controls in a control set. 6clicks offers a suite of controls on the Content Library that can be offered to customers straight away, but you can also offer your unique controls on the exclusive Content Library. To learn more about control sets, head here.
Compliance
The Compliance module holds all of the external standards, laws and regulations. These can be added from the 6clicks Content Library and filtered for your clients so they only see relevant authorities. To learn more about Authorities, head here.
Risk Libraries
The Risk module gives you the ability to create custom Risk Libraries that can be used for and by your clients. Additional, partners have the ability to produce a risk matrix mapping an overarching risk profile based on client feedback. To learn more about Risk Libraries and Reviews, head here.
Growth
Risk Review
This module allows you to create and send Risk Reviews to your clients and start generating reports for your clients.
Account Management
Partner Licences
Through the partner dashboard, partner administrators will be able to add more advisors to your team. Partners users are billed for the number of active users. For more information on managing partner users, click here and here.
Branding
Partners can also apply custom branding and styling to the whole 6 clicks suite from the login screen, colour scheme and custom logos. To learn how to customise your dashboard head here.