Response only users are users that can:
Respond to question based assessments (QBA) that they have been invited to
View and update issue actions
These users can only see the My Tasks module, where they can access the assessments and issue actions they have been assigned to.
Response only users can be invited to any third party and can belong to one or more third parties. Response only users are free and there are no limits to how many response only users you can invite to your team.
Note that you can add internal users to third parties if you need them to respond to an assessment on behalf of the third party, or to assign them an issue action to manage on behalf of a third party.
Adding response only users
To add a response only user, head to the third-party module and select the third-party you would like to invite them to.

Click on the Respondents tab (1), click on New User (2), enter the email address of the respondent (3) and hit Add.

You can input multiple users. To add the users to the third party, click Add.
The user(s) will appear in the Respondents table.

Note that the user will not be sent an email until they have been invited to an assessment or assigned to an issue action.
Removing response only users
To remove a response only user from a third party, in the Respondents tab, click the more button and select Remove.

After being removed, the user will lose access to any assessments or issue actions related to that third party.
Note if the user belongs to more than one third party, they will still be able to access assessments and issue actions related to the third parties they have not been removed to.
You can view and manage all response only users from all third parties from the Respondents tab in Administration > Users.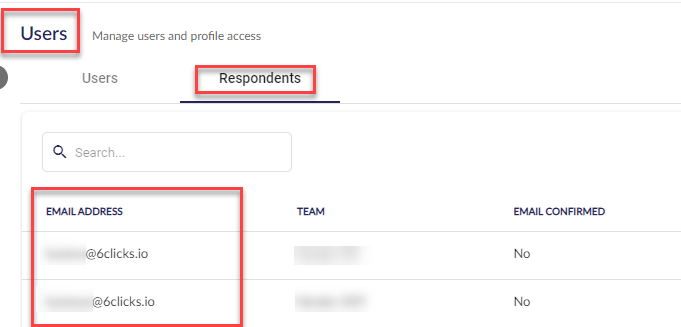 Upgrading response only users
Response only users can be upgraded to become licensed internal users. To upgrade a user, navigate to Administration > Users and select the Respondents tab. Then click on the user you want to upgrade and select Upgrade.

Select the license type, then click Upgrade.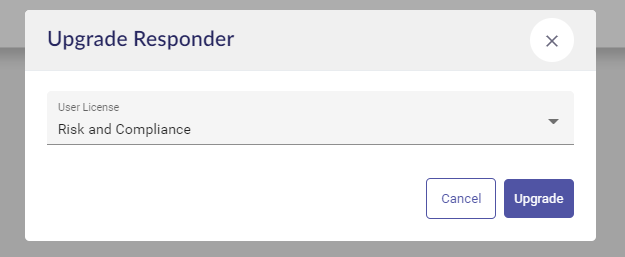 Your Upgraded user will be removed from the Respondents list and added to the User list under the Users tab.