How to choose Risk Domains and create custom fields
Once you have logged in to you Team click on Administration then Custom Data
Under Risk double click Risk Domain
The Manage fields will come up. Risk Domain assigned by default. It cannot be removed but you can rename it or Add a child field. Any changes made here will be applied to all spokes automatically.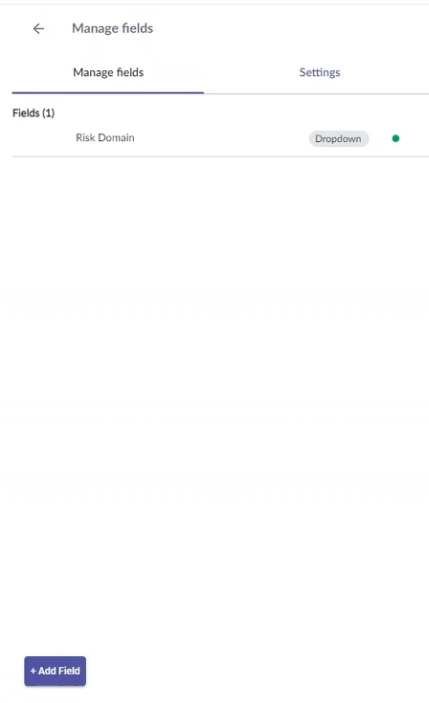 Once finish with you changes in Risk Domain and log in to your Team you will see any changes that you made to the Hub replicate into Spoke. All changes must be done in the Hub, you cannot do them from Spokes
Creating a Risk in your Team. Risk>Registers>Create Risk. You then select the Risk Category and Sub-Category for you Risk you have just created.
If you want to create another field for your Risk(s). Go back to Risk Register>More>Manage fields.
Click on Add Fields and give your filed a Name(1), Type (2), Add answers options(3), Save answer options(4), Save(5)
Your new field will look like this.
And when you click on your Risk you will see the filed(s) you just created under Overview
If you would like to restrict the Add Filed option from Risk Registers>More>Manage Fields
Once you log in to your team go to Administration>Custom Data> double click Risk Domain
Go to Settings then you can enable/disable the option "Allow Clients to create new risks fields"