Learn how to respond to a 6clicks Assessment
Accessing the 6clicks Assessment
If you have been sent an assessment from 6clicks, you will receive an email with a button to access the assessment. This email will differ depending on the number of questions you are assigned.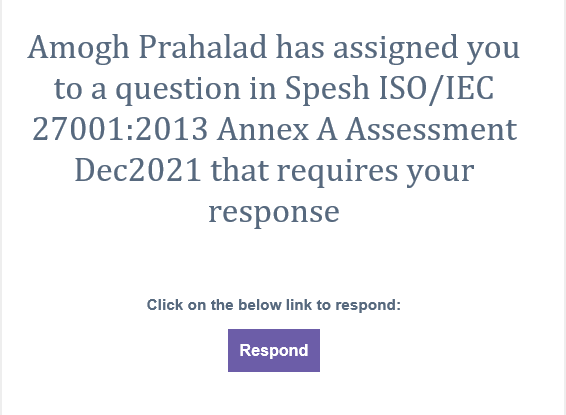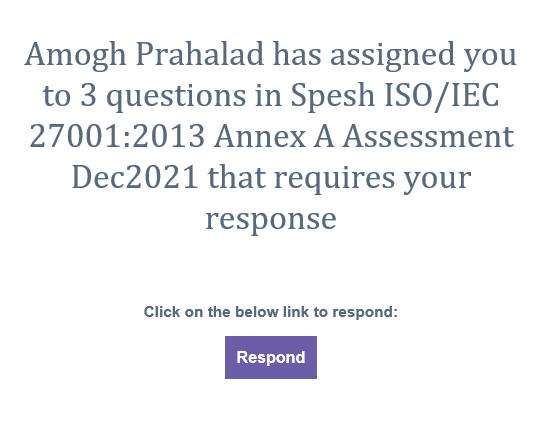 Once you click on the link, you will be prompted to change your password and create an account. When completing an assessment if you are not already a part of the team sending the assessment you will automatically join as a free user and have the ability to respond to the assessment.
Note - branding can change depending on the Team that sent you the assessment.

Users with Submit Permission
If the user is assigned the entire assessment and granted submit permission. Upon completing the assessment they are able to submit it.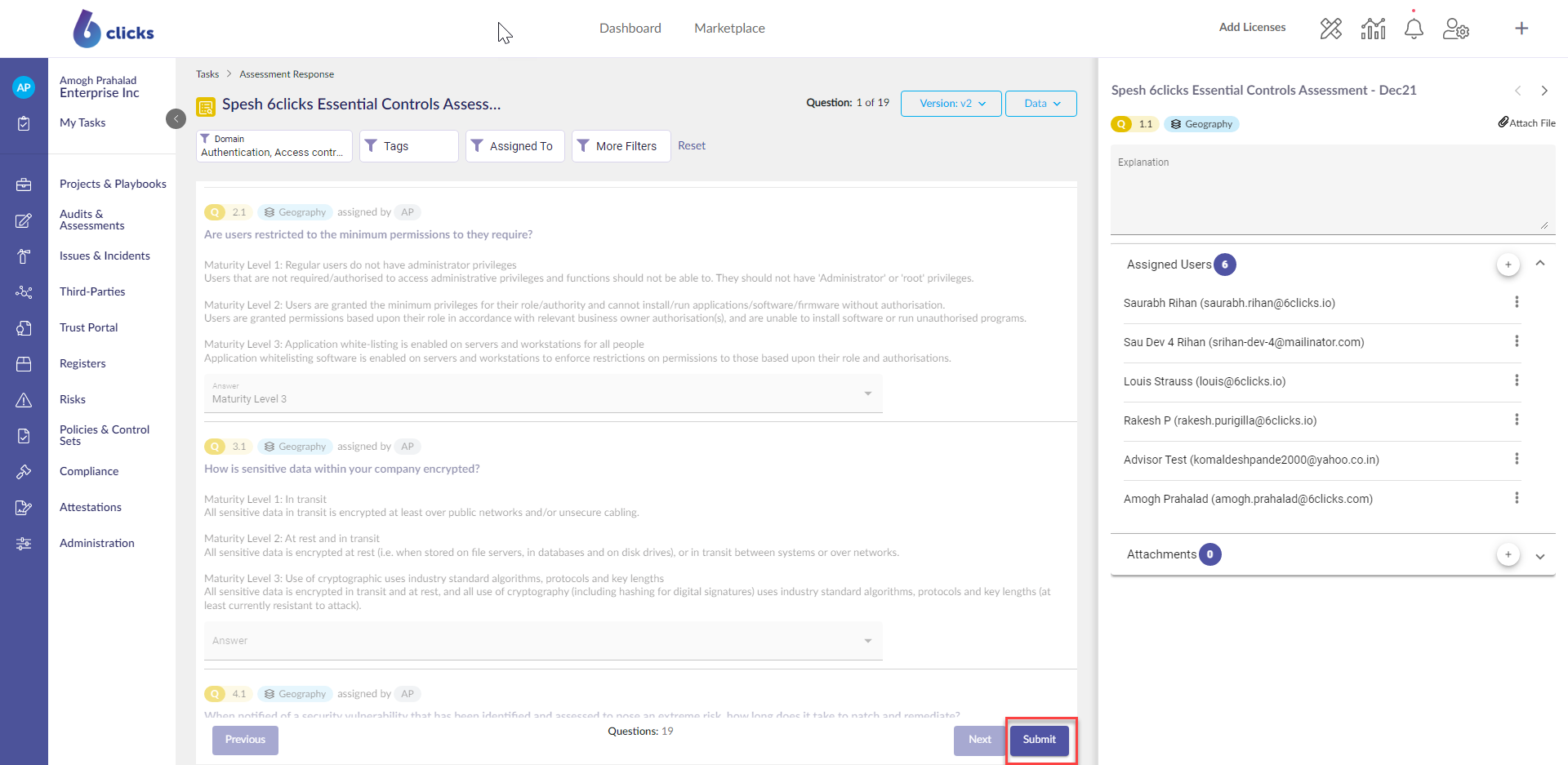 If the user with the submit permission is collaborating with other users. The user with the submit permission has the following abilities:
View all the questions.

Only respond to questions assigned to them.

View the questions that are not assigned to them as read-only.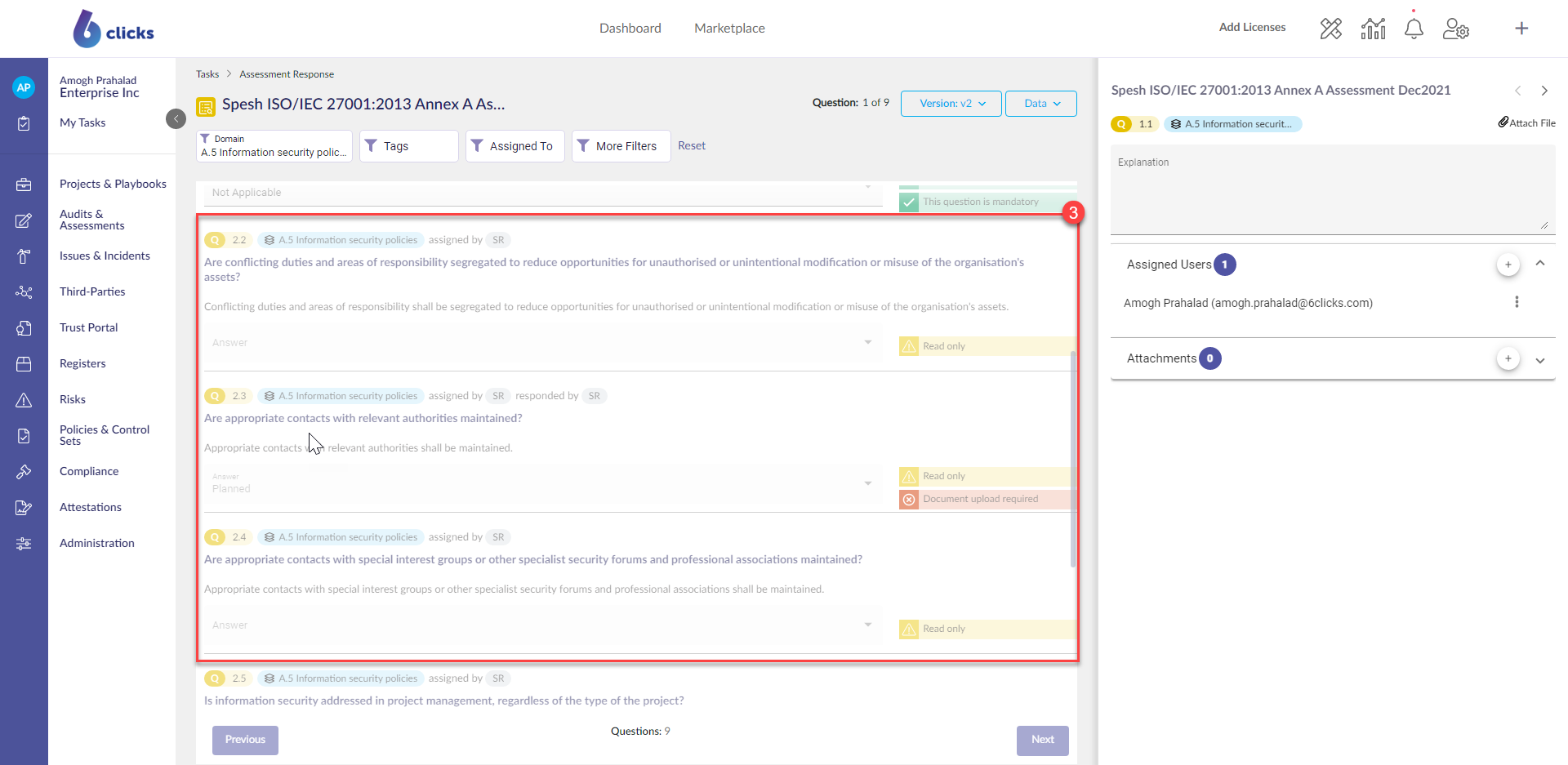 4. Assign themselves to any question.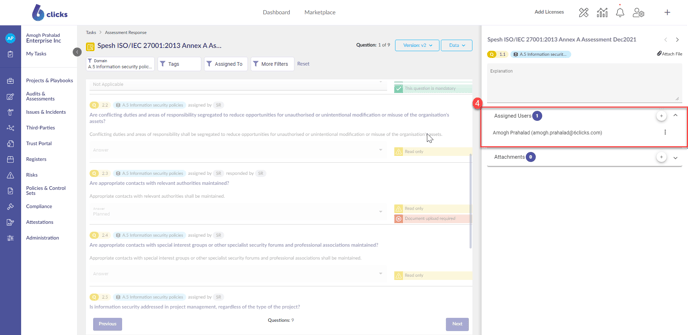 5. Submit the response
The system checks if all questions are answered. If not, then it shows a warning message before the response is submitted

If there are any mandatory conditions not met, then the user will be prompted to respond to those

If all questions are answered, then the Assessment response is submitted and it's marked as 'Completed'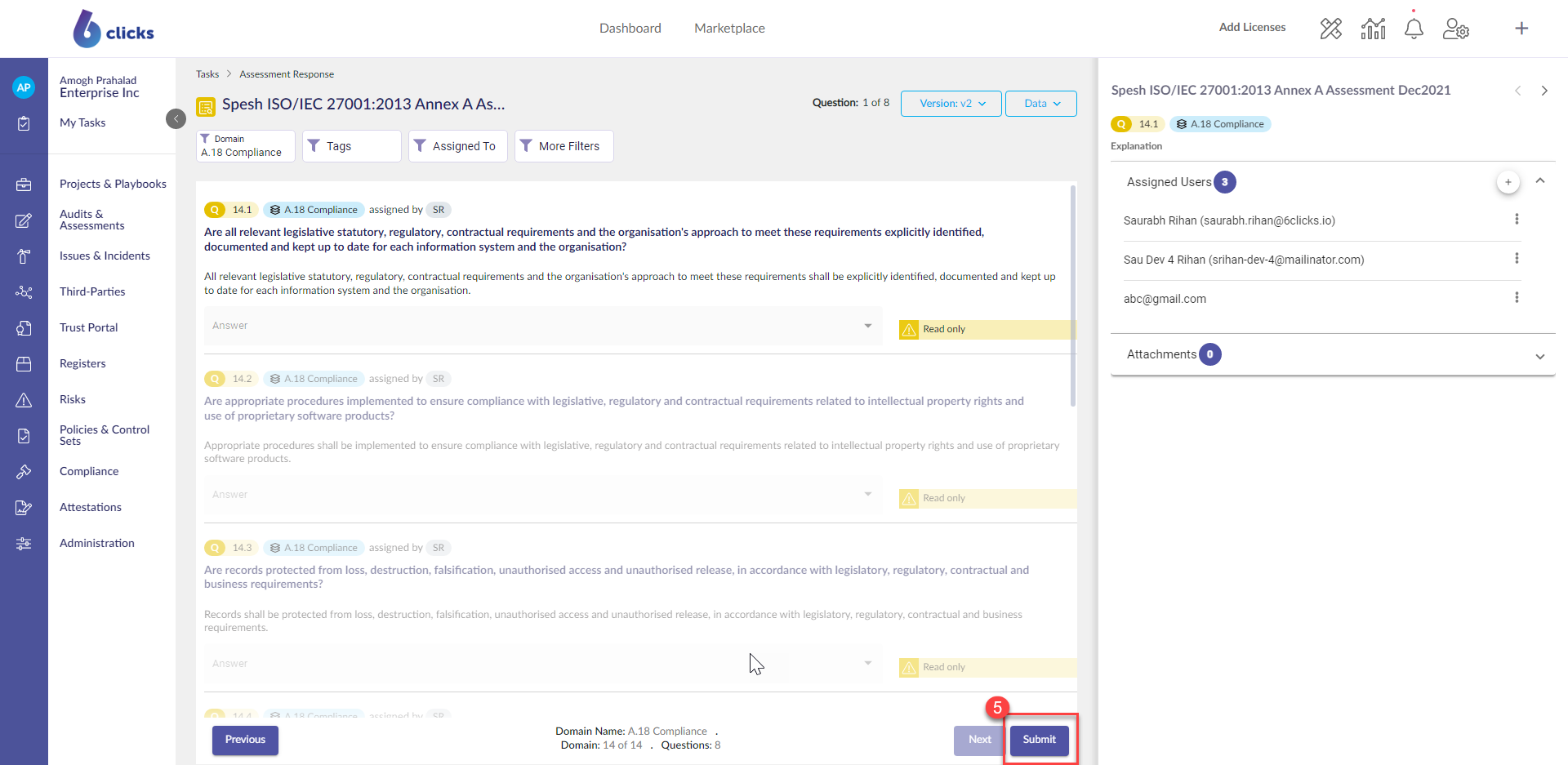 Users without Submit Permission
If they are not granted the submit permission the user can only:
1. View and answer the question(s) they have been assigned.
2. Close the assessment once questions have been answered.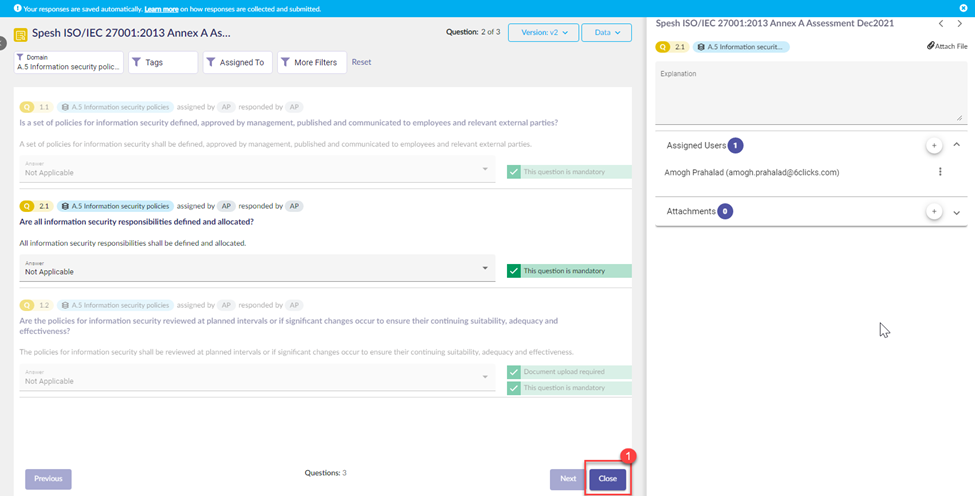 Assessment filters
Assessment questions can be filtered by the following:
Domain filter - display questions that belong to one or more domains
Tags - display questions that have selected tags
Assigned To - display questions assigned to selected users
More Filters - display unanswered and/or mandatory questions
Accessing the Assessment from My Tasks
When completing an assessment all responses are saved automatically so you don't have to worry about losing any progress.
To continue with an assessment simply navigate to the task dashboard. To access the Tasks dashboard, click on My Tasks on the left-hand menu.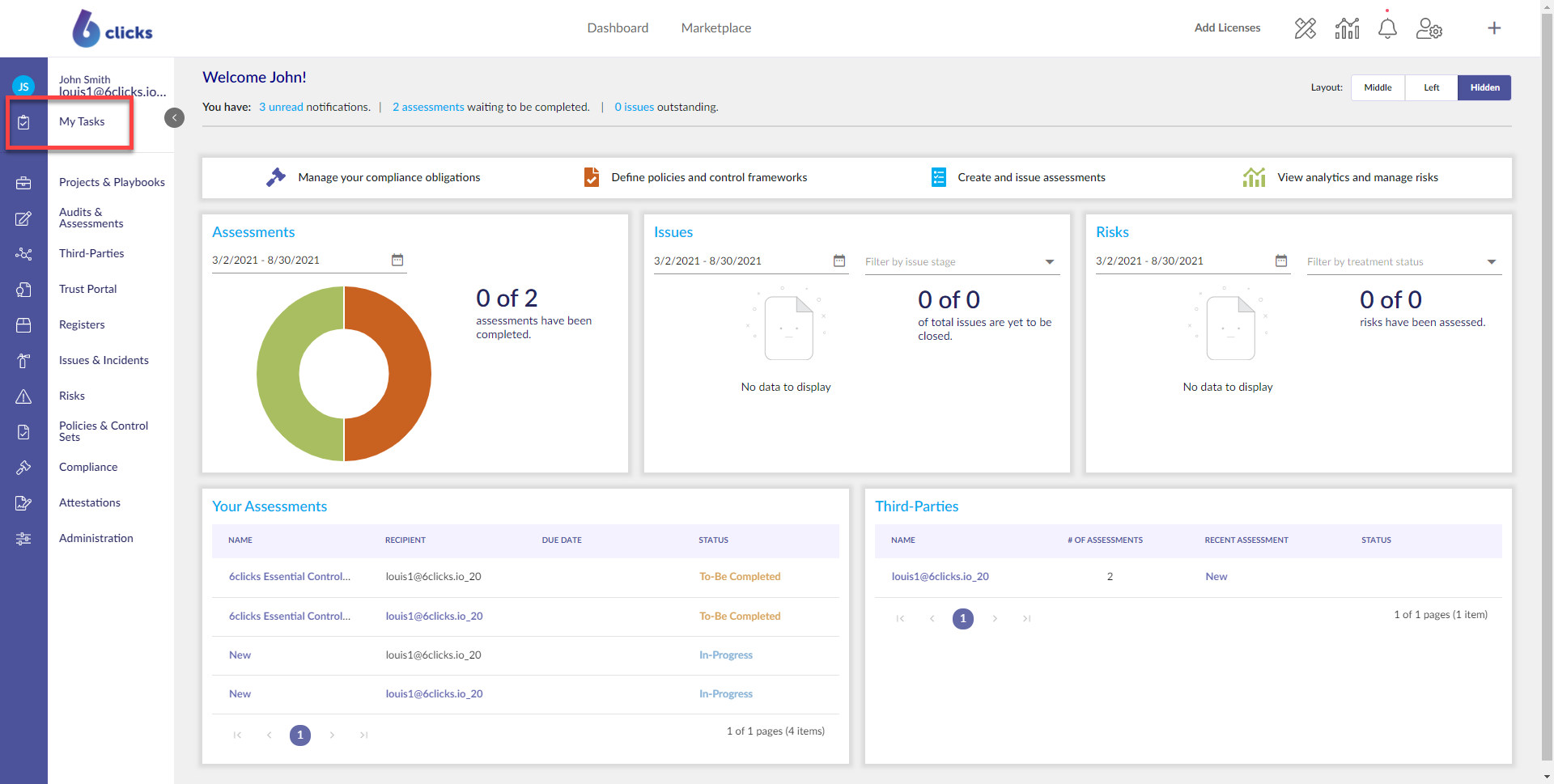 Here you will find a list of all your tasks, including assessments that you have been invited to complete. By clicking on the name it will reopen the assessment with the saved responses.

Finally, if required you can filter the task dashboard by their type to locate your assessment only.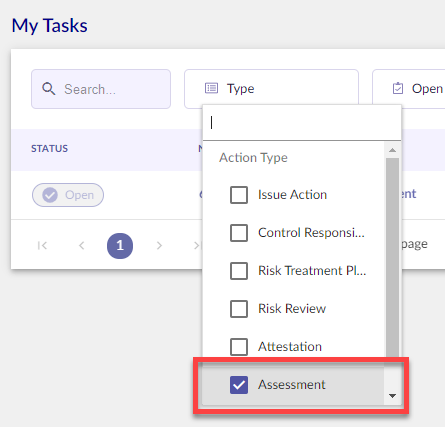 To learn more about sending Assessments, head here.