Sorting & Filtering
In the Tasks screen, the Column Headings are used to manage the sorting and filtering of your Task report so you can view and access any combination of Tasks and customise the information to suit your needs.
Sorting
You can sort your Task List alphabetically in ascending or descending order using any of the Column Headings.
Click once anywhere within a Column Heading to display in ascending order, an upward arrow will appear to the right of the heading window so you can reference or undo as required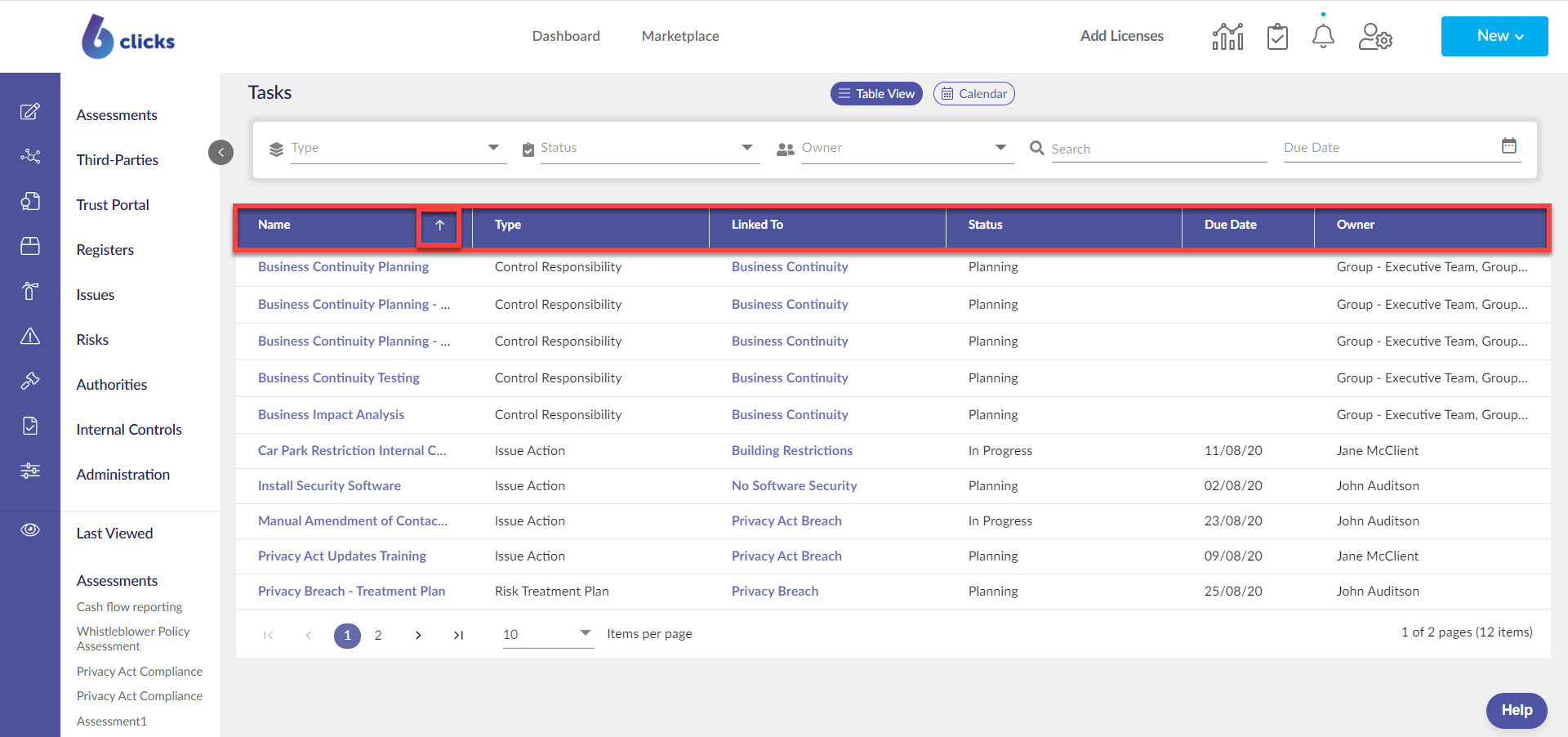 Click again in the same Column Heading to sort in descending order, note the downward arrow for reference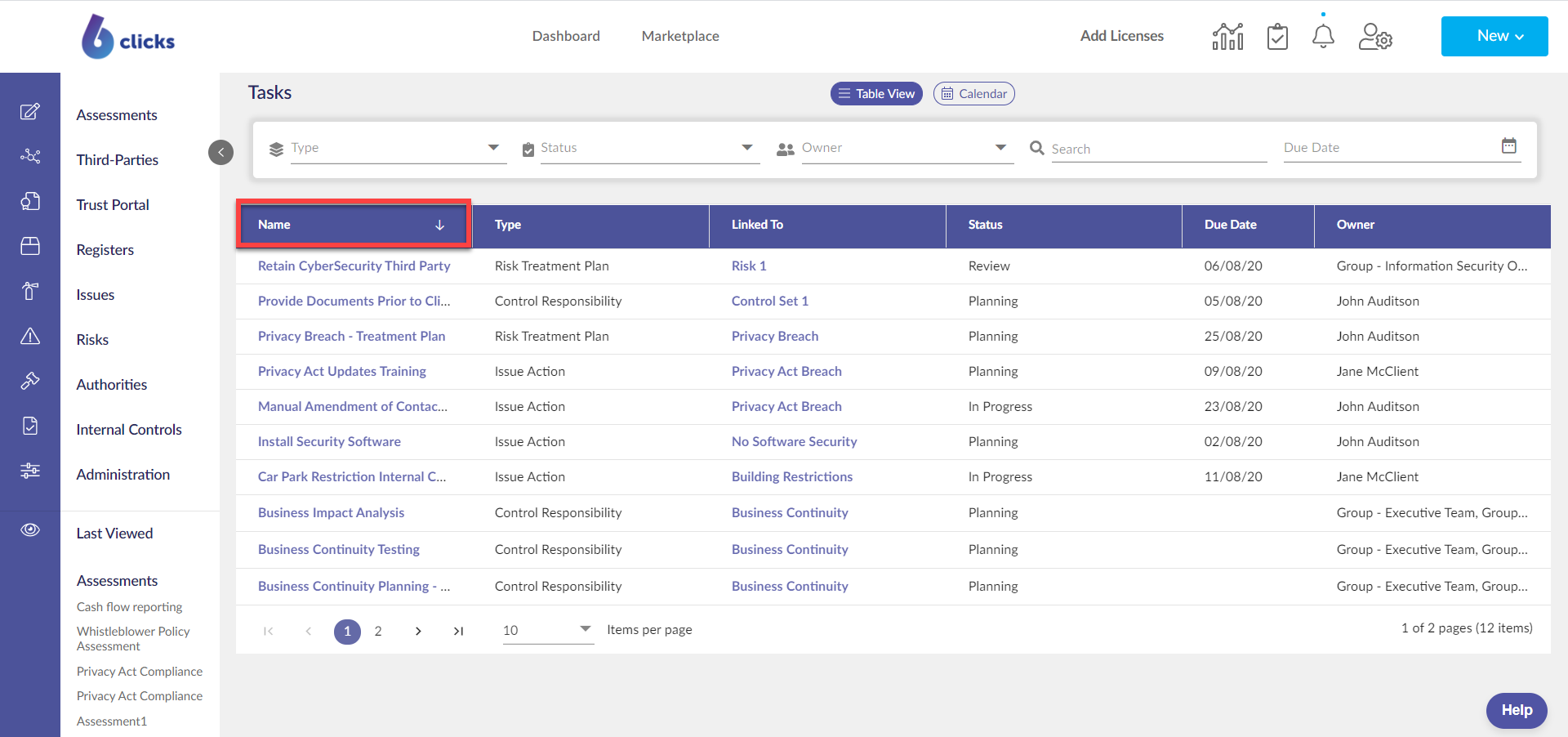 Click again to remove the Sort function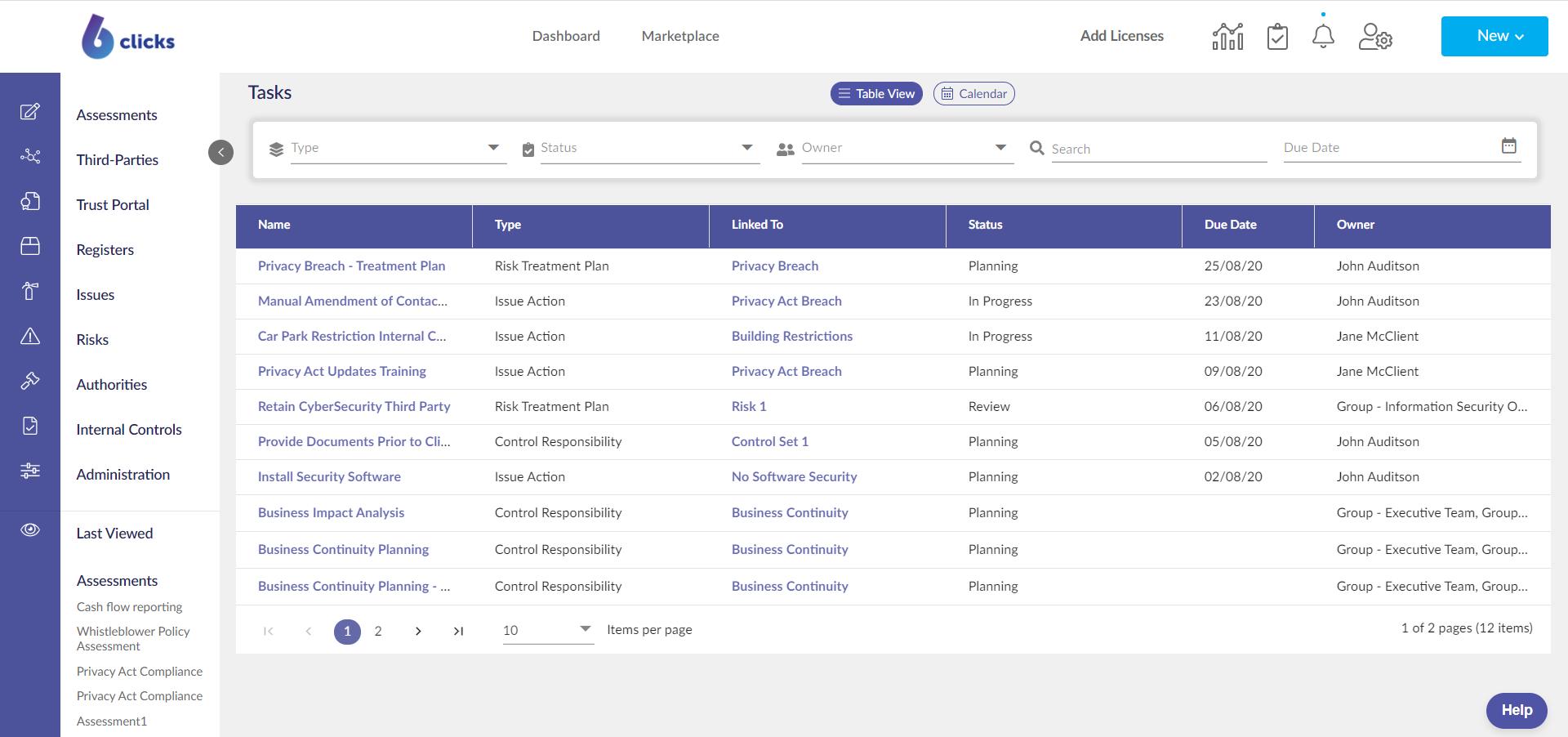 Sort can be applied to one column at a time, if sort is applied to one column and then an additional Column Header is selected the original column sort will be removed and applied to your new selection.
Filter
The Filter panel at the top of the Task screen has four Filter options, each corresponding with a Column Heading of the same name
Filter by Task Type, Action Status, Action Owner and Due Date
Included is a Search bar so you can instantly access a specific Task when required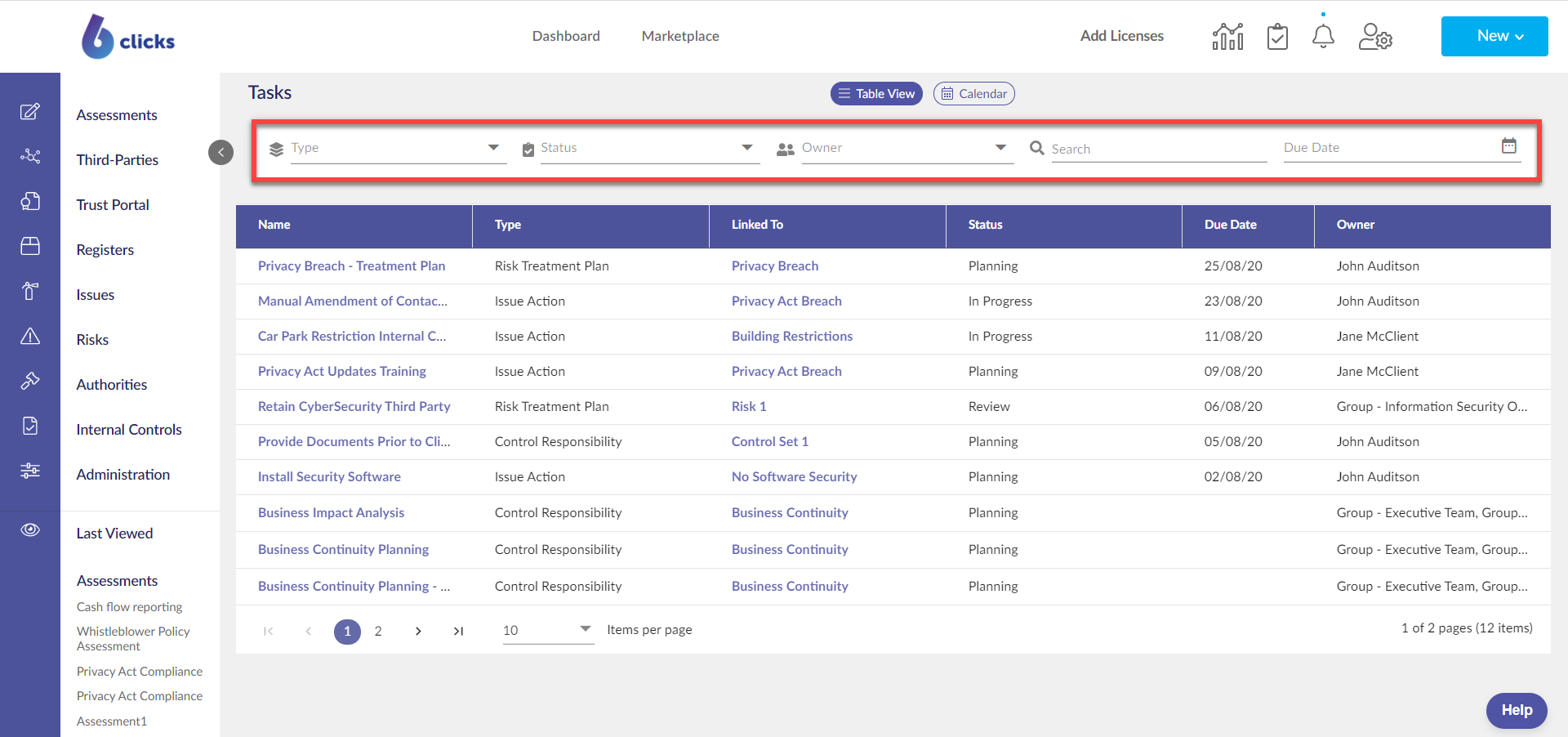 Let's go through some examples of how to manage this user-friendly efficiency-boosting function so you are only ever a few clicks away from the exact information you need, every time you need it
Select the arrow symbol to the right of a Filter bar to view filter options, you can select one, some or all of the filter options shown in each Filter bar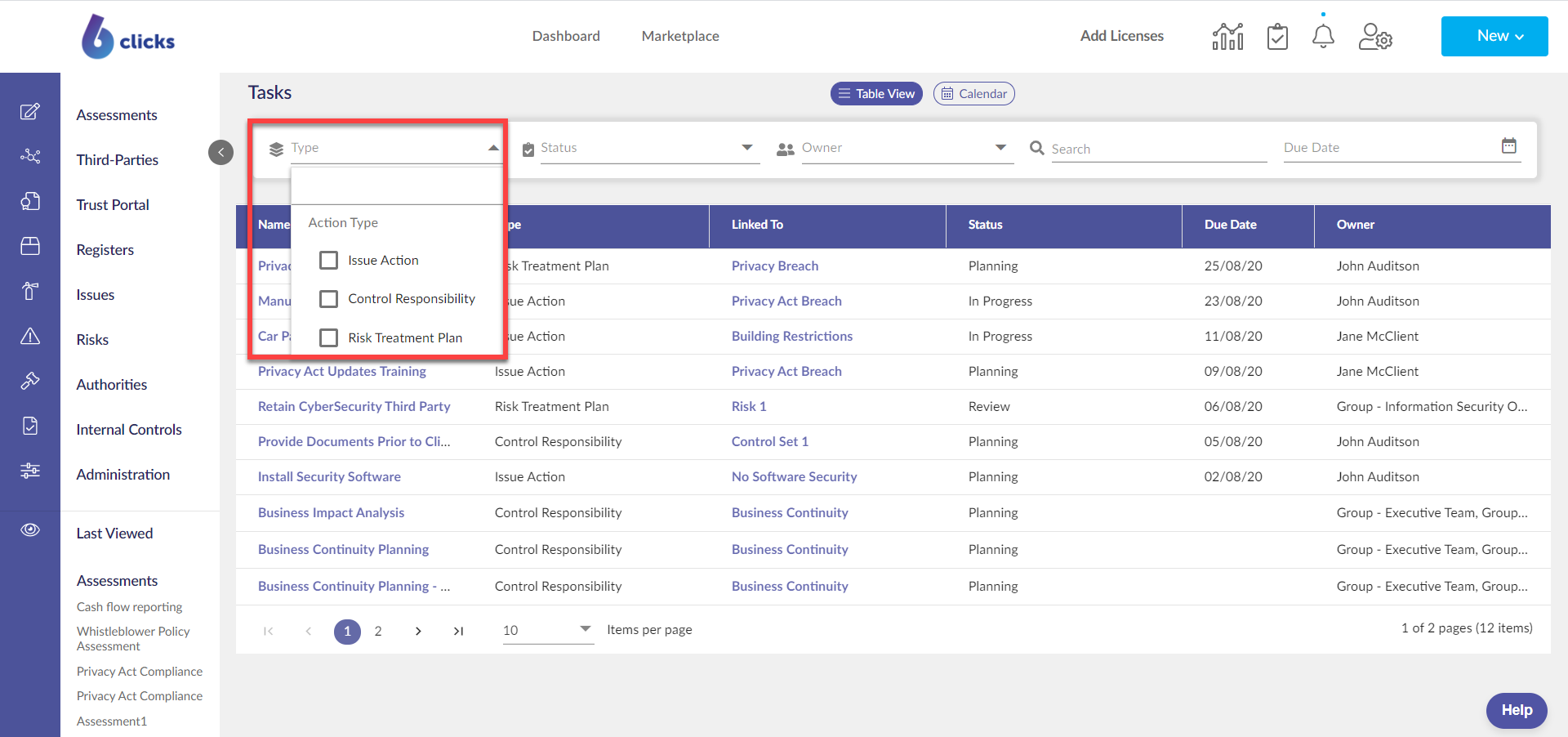 Check the box next to a filter option corresponding with the Column Header you would like to display, then click anywhere outside of the filter options drop-down menu to display results.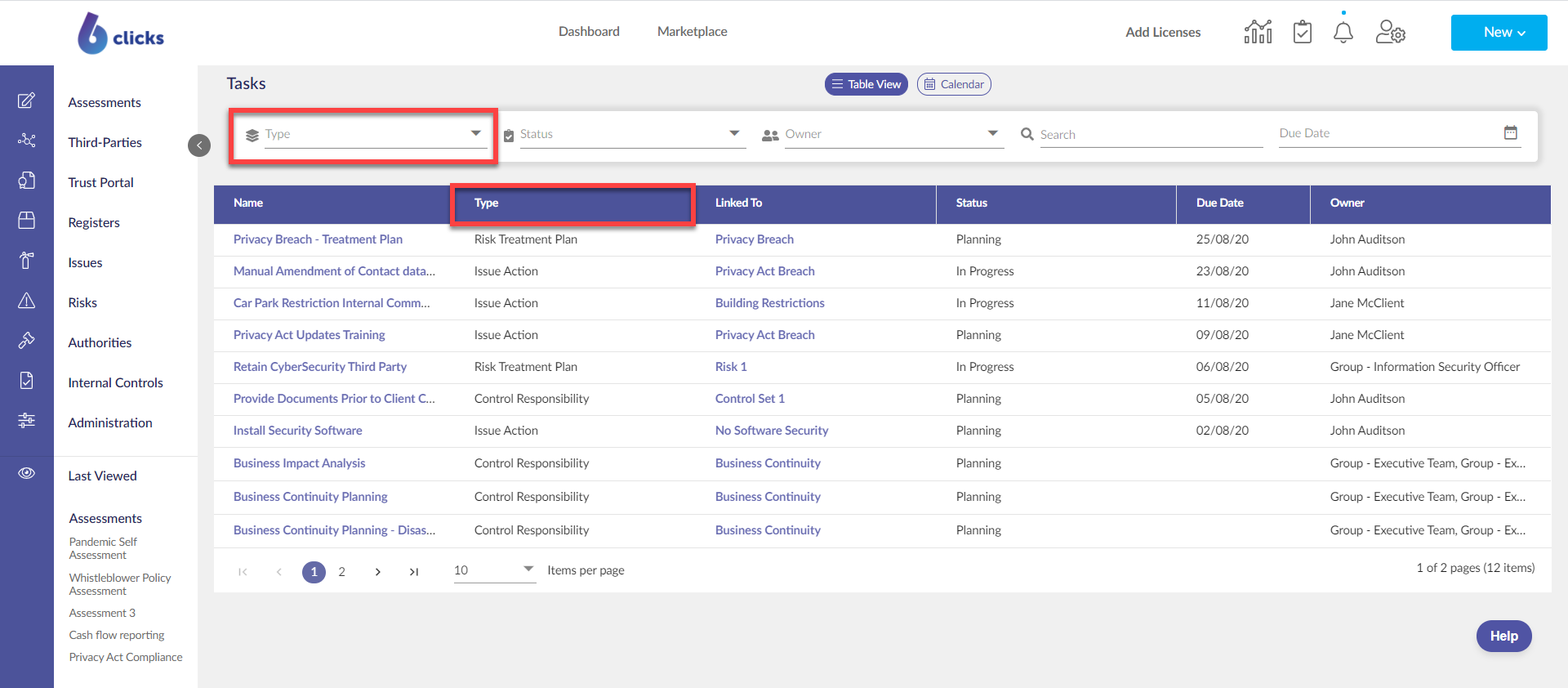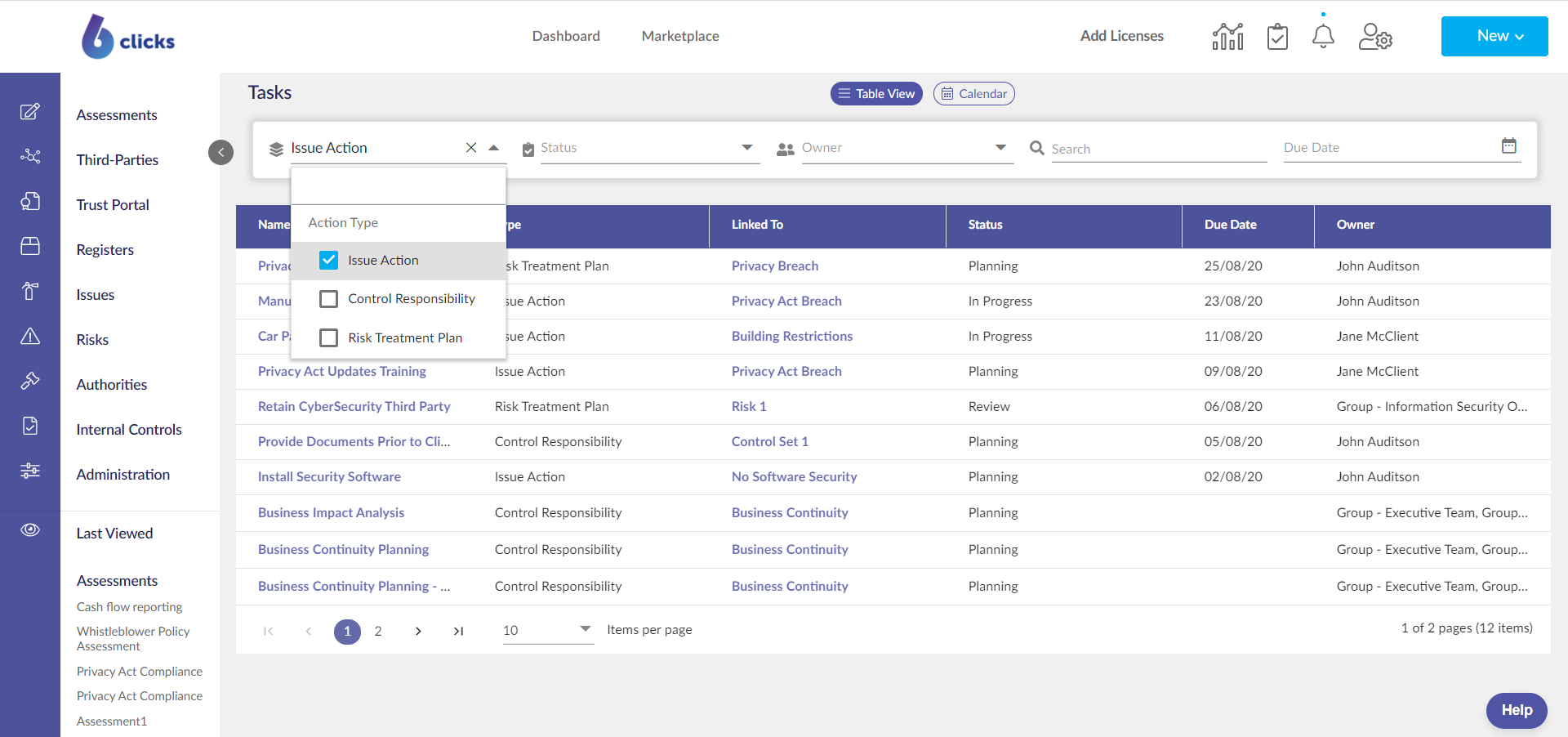 For example, Filter Task Type selection of an Issue Action to display all Issue Actions
Filters can be layered so you can create Task Lists to display any combination of results
Layer a second filter to drill down even further, example below
Filter selection Task Type: Issue Action
Filter selection Action Status: Planning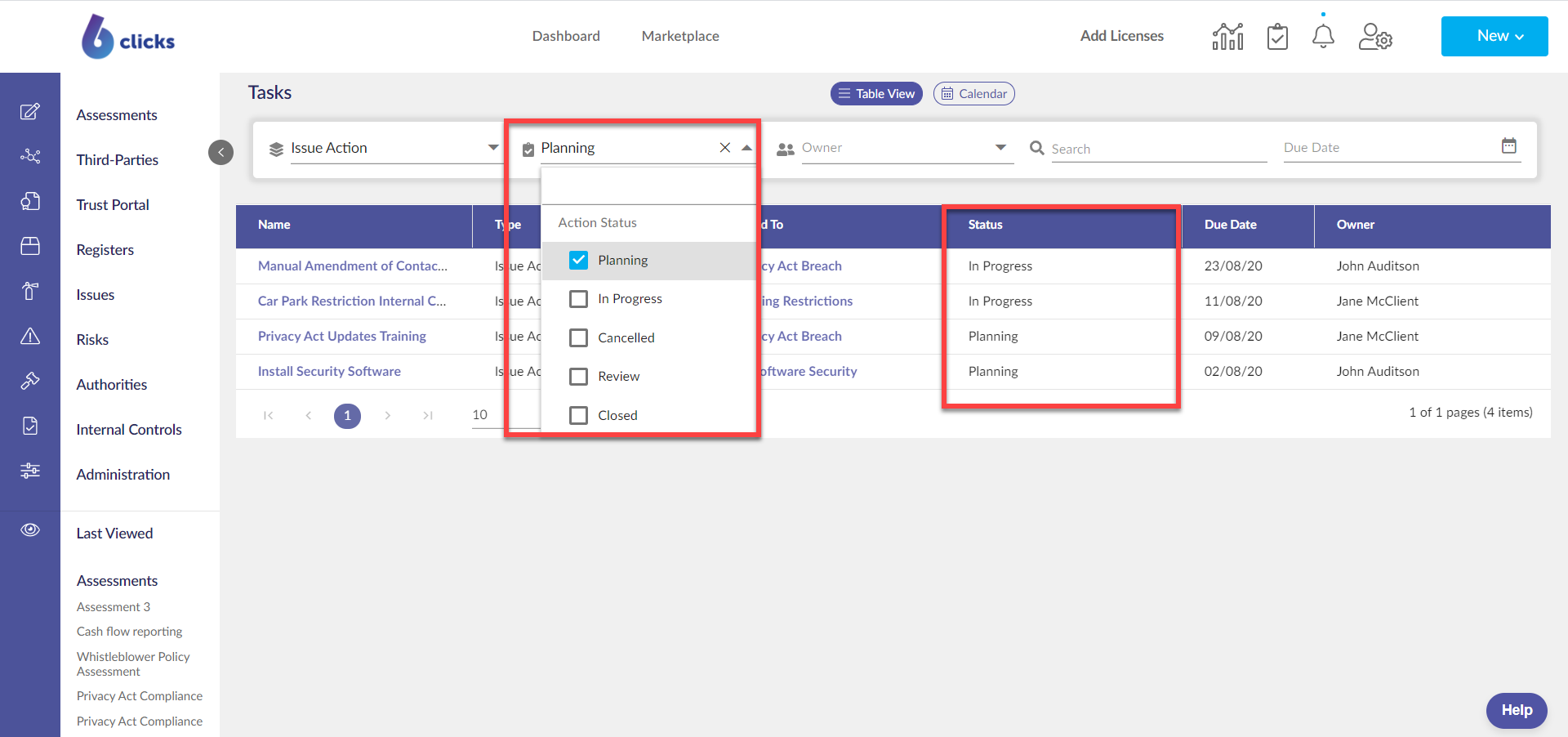 Result: Issue Actions with Status of Planning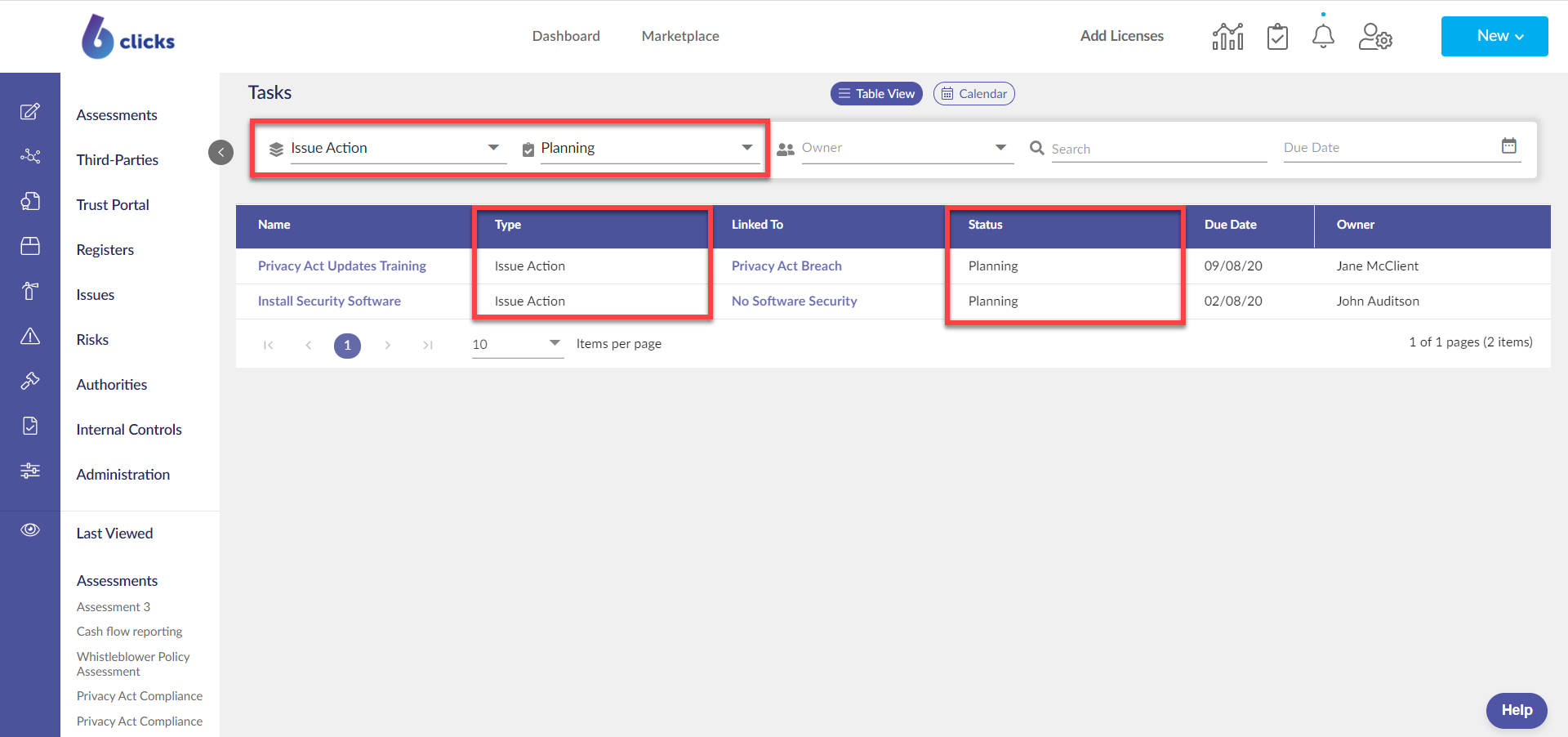 Filter by Type, Status, Owner, and Due Date
Due Date gives you many options including Custom so you can see what Tasks are due any date, This Week, This Month, Last Month, and Custom Range allows you to choose a date range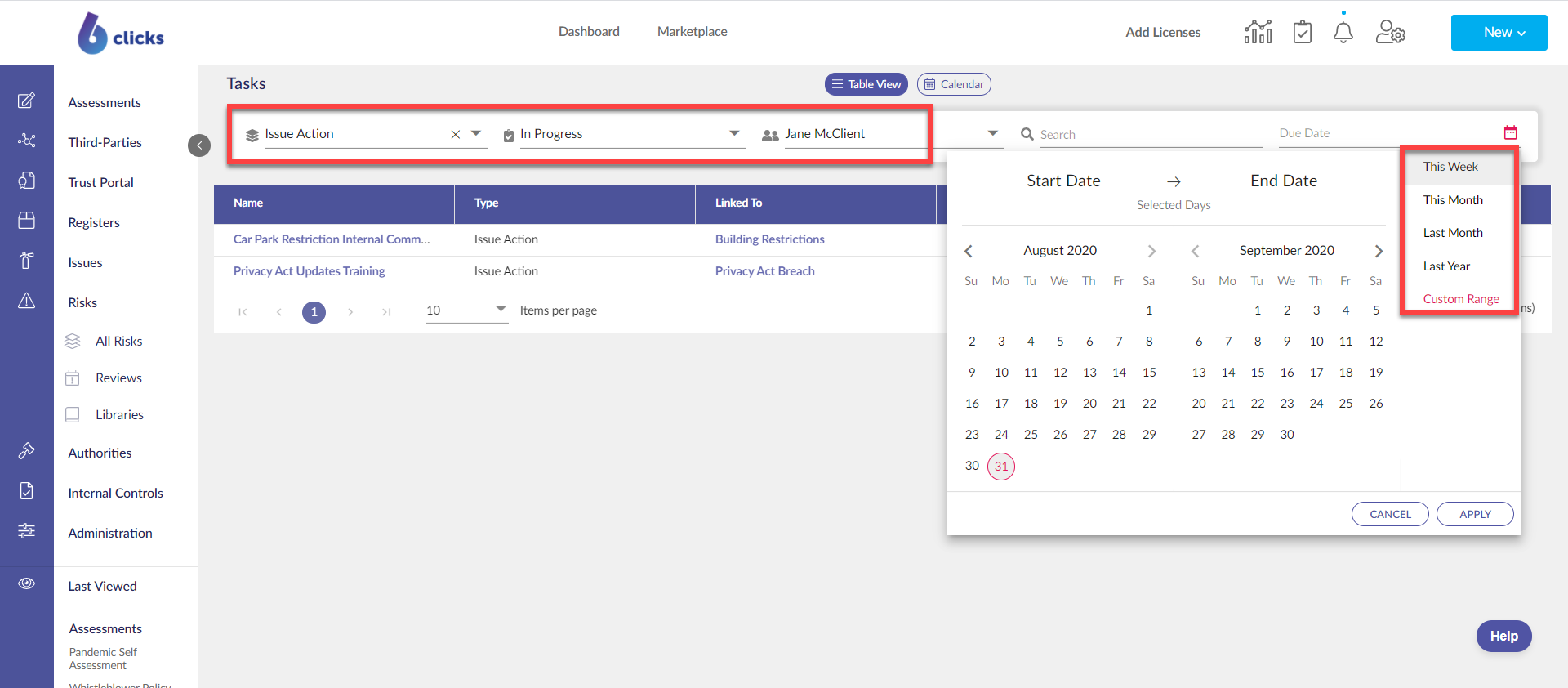 Example of all using all four Filter options with multiple selections
Task Type: All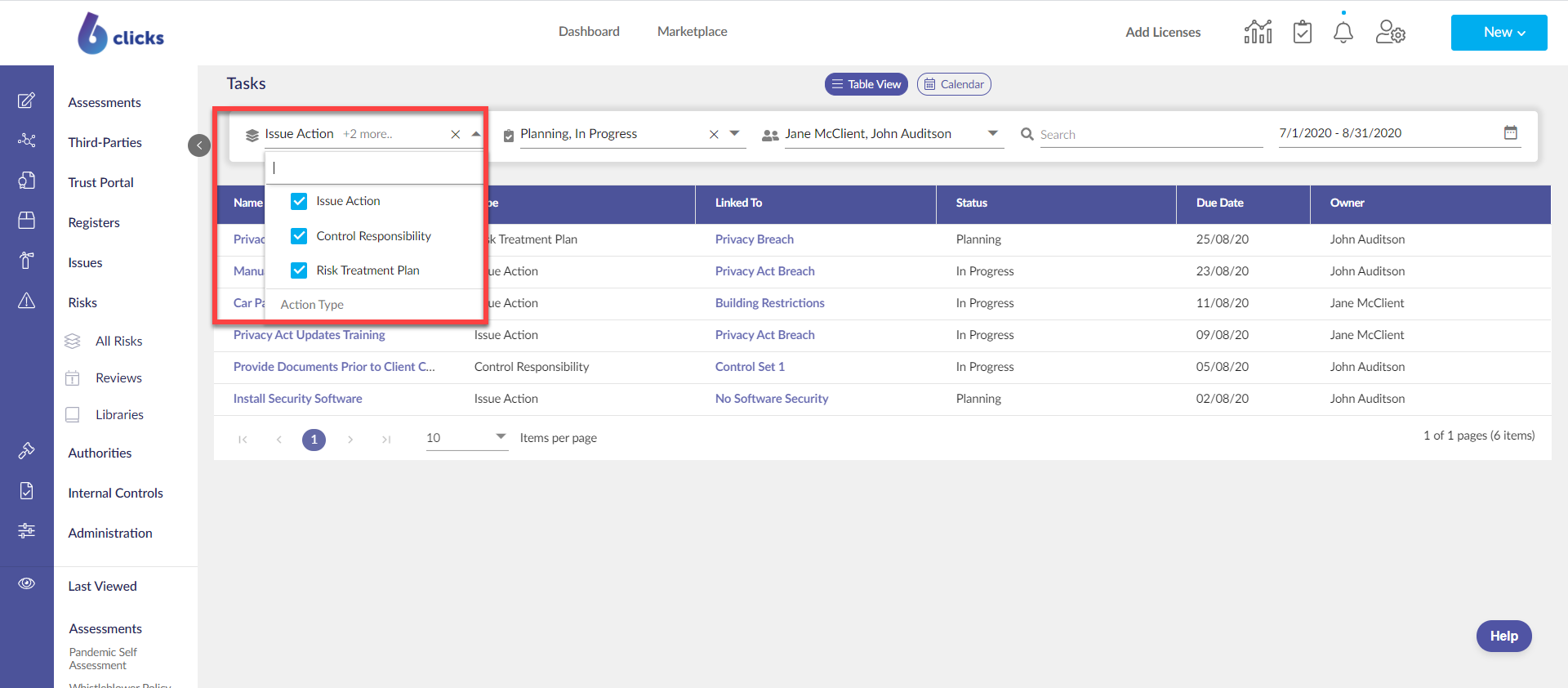 Status: Planning and In Progress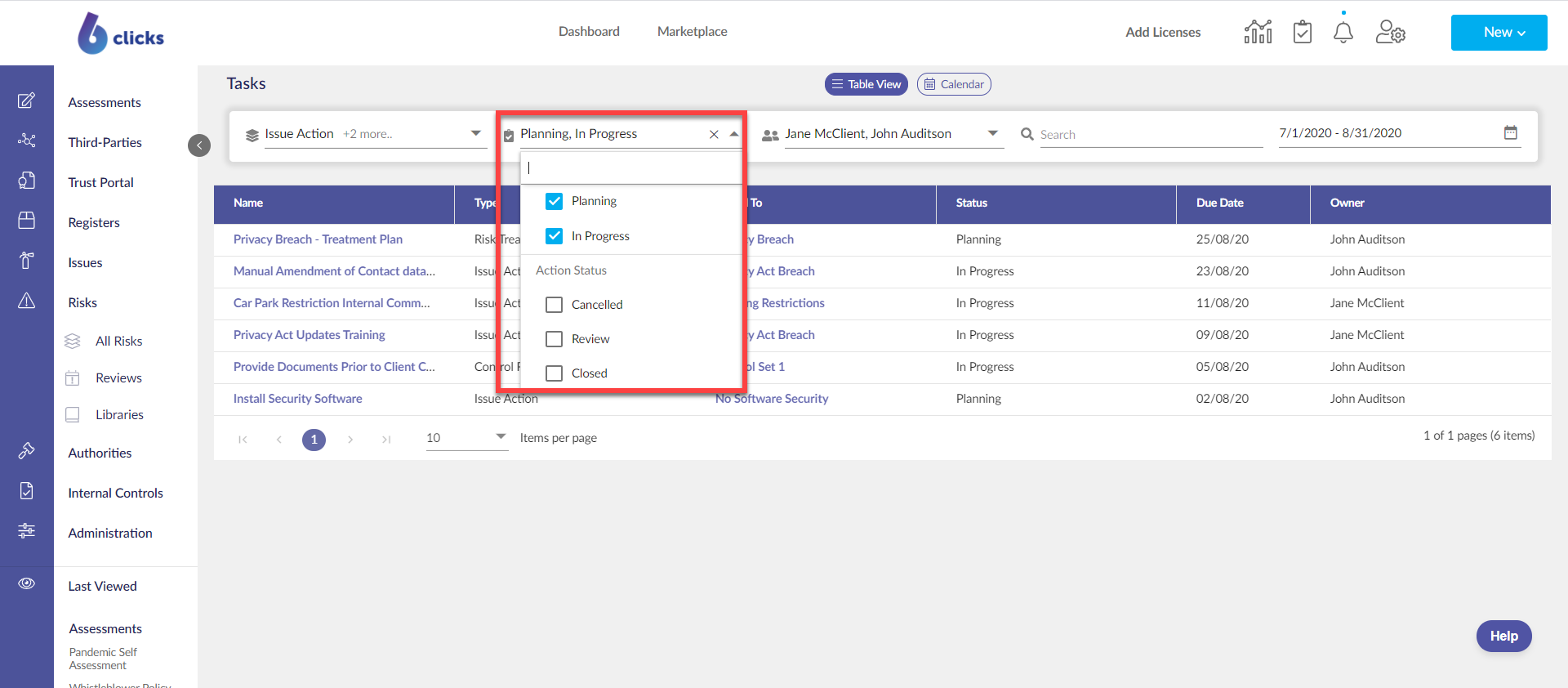 Owner: Jane & John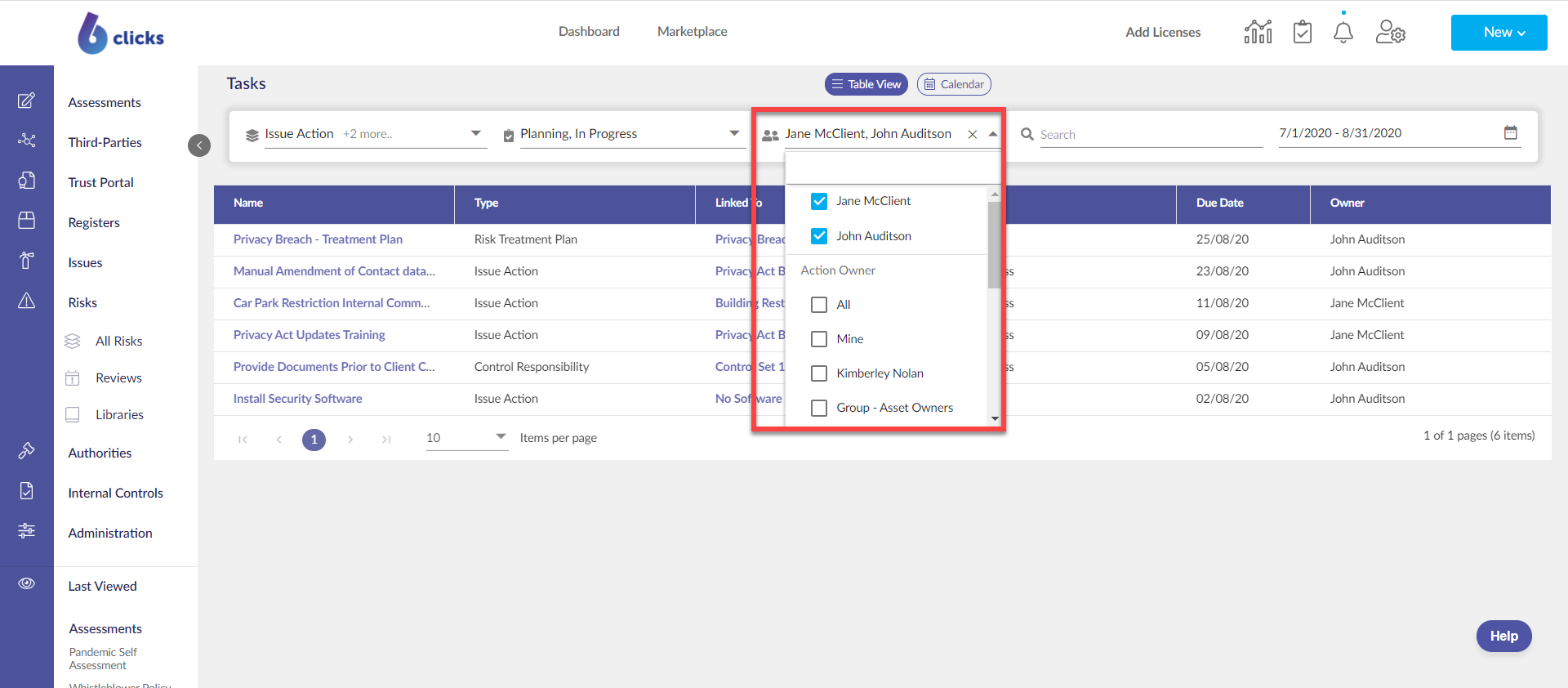 Due Date: Last Month
Sort by Due Date Ascending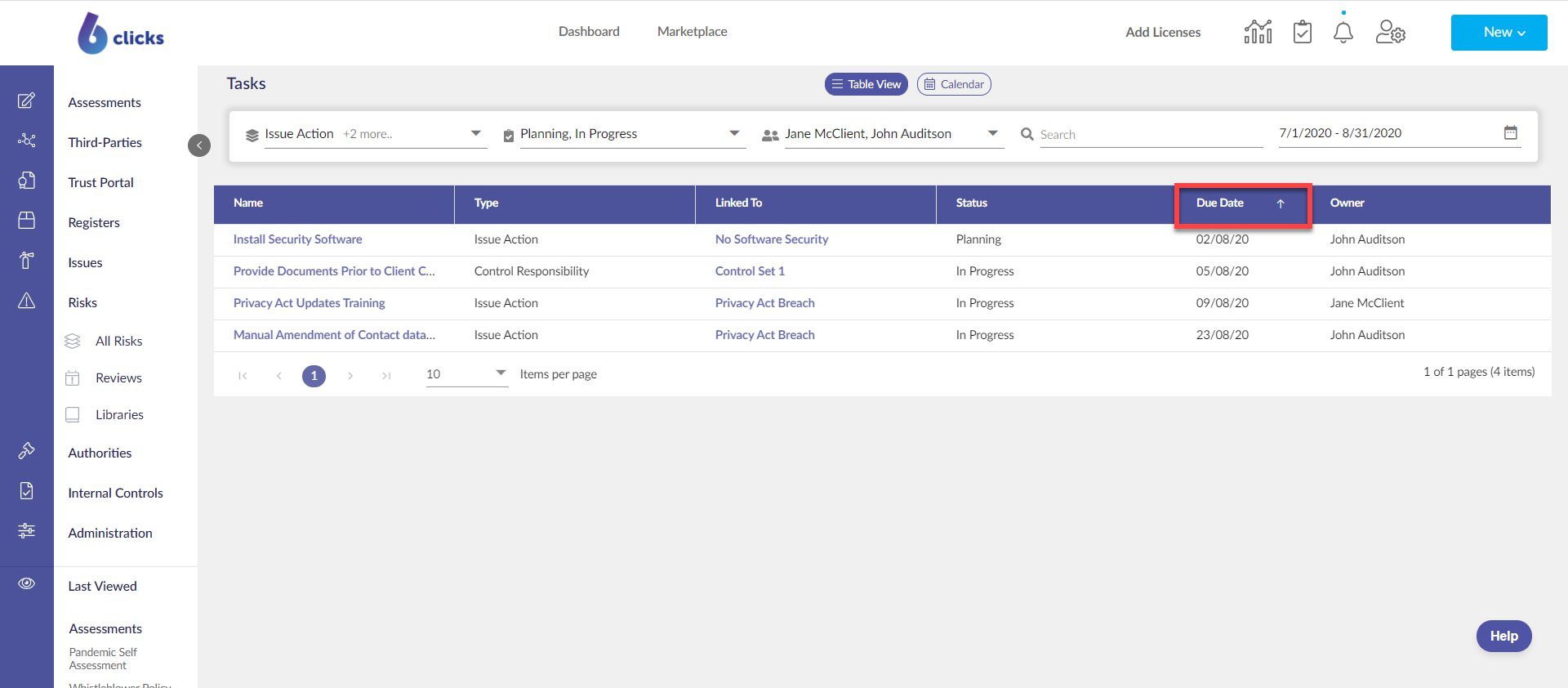 Let's remove an Owner by deselecting the checkbox next to their name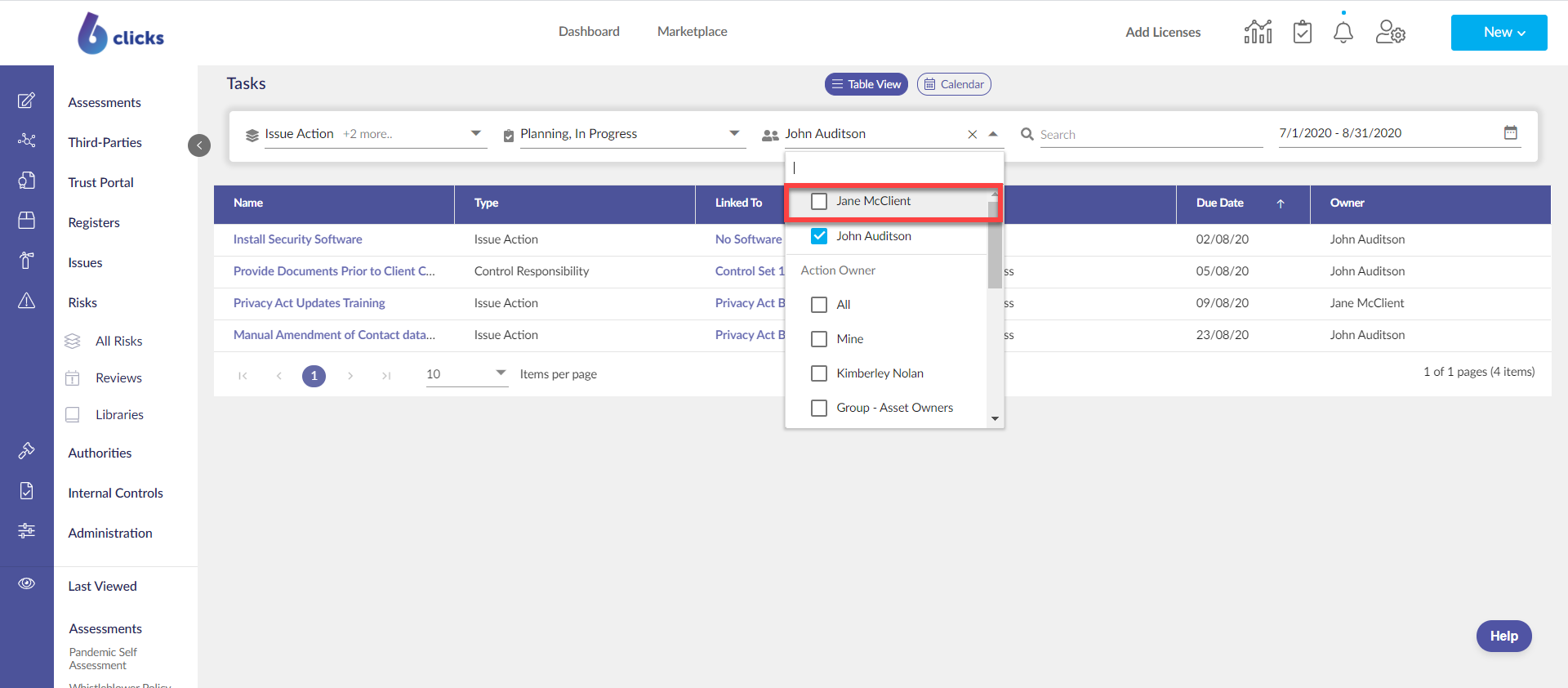 Sort Due Date by descending by clicking the Column Header once more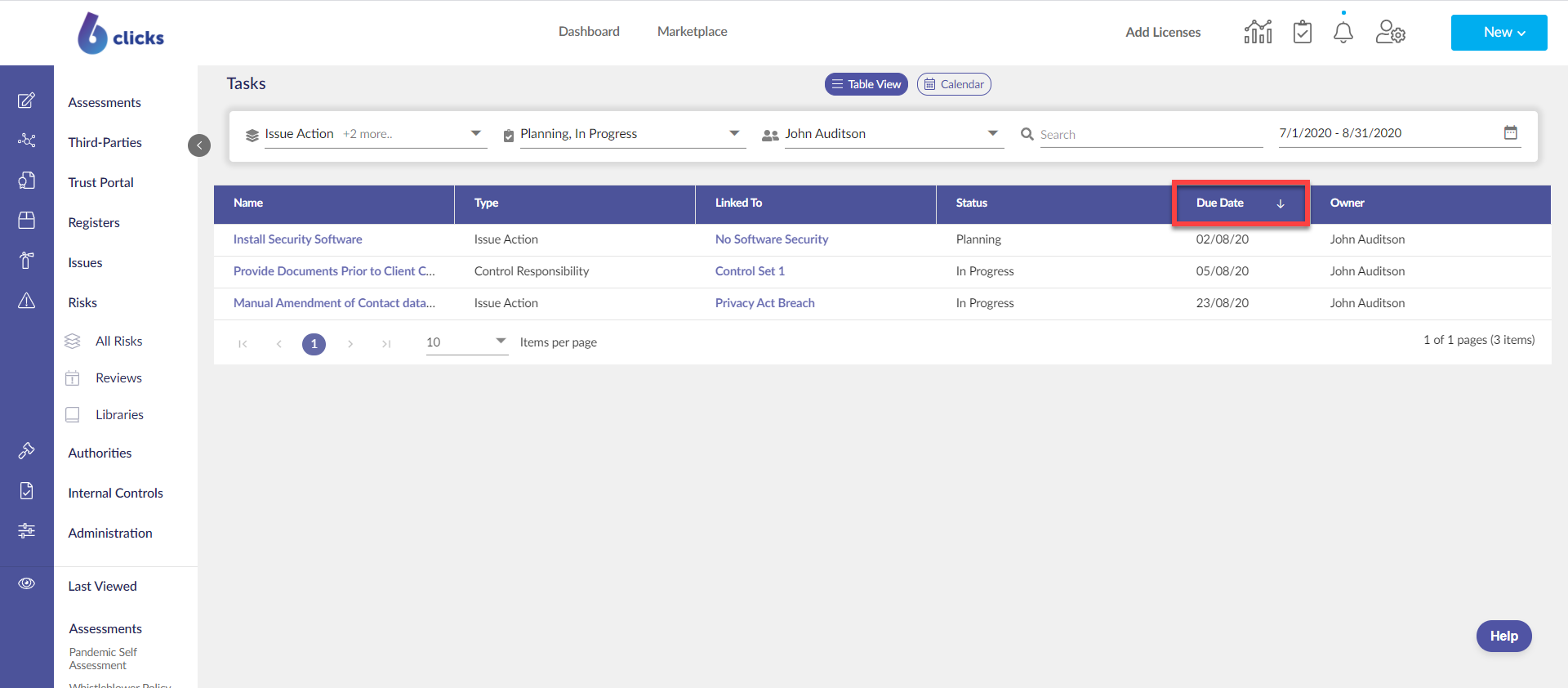 Now we can see all Tasks Owned by John that were due to be progressed to Status of Complete last month, in order of the most overdue.
Remove filters by clicking the X to the right in each Filter selection
All results now displayed again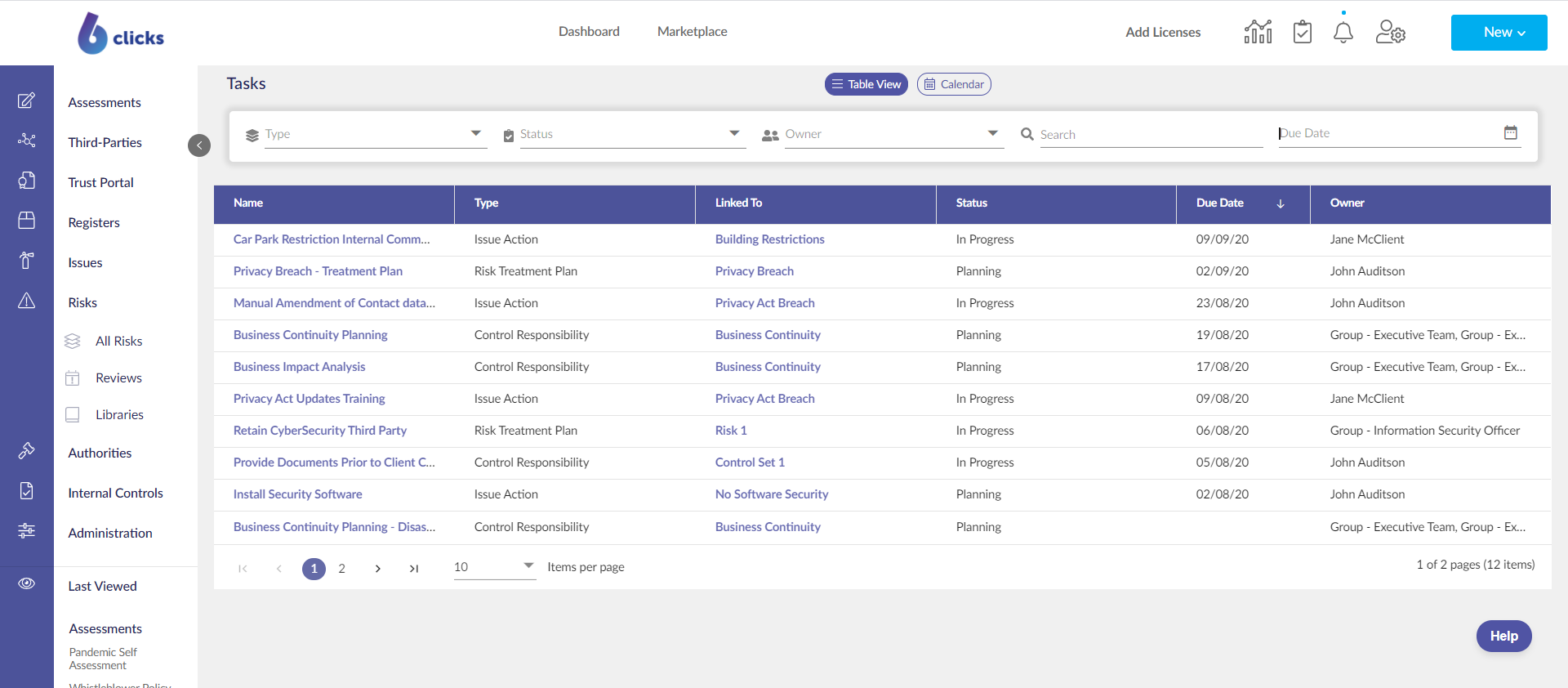 Another example is utilising Tasks to stay ahead of what you have due
Filter Tasks to show all Actions with an Open Status, assigned to yourself
Task Type - all options selected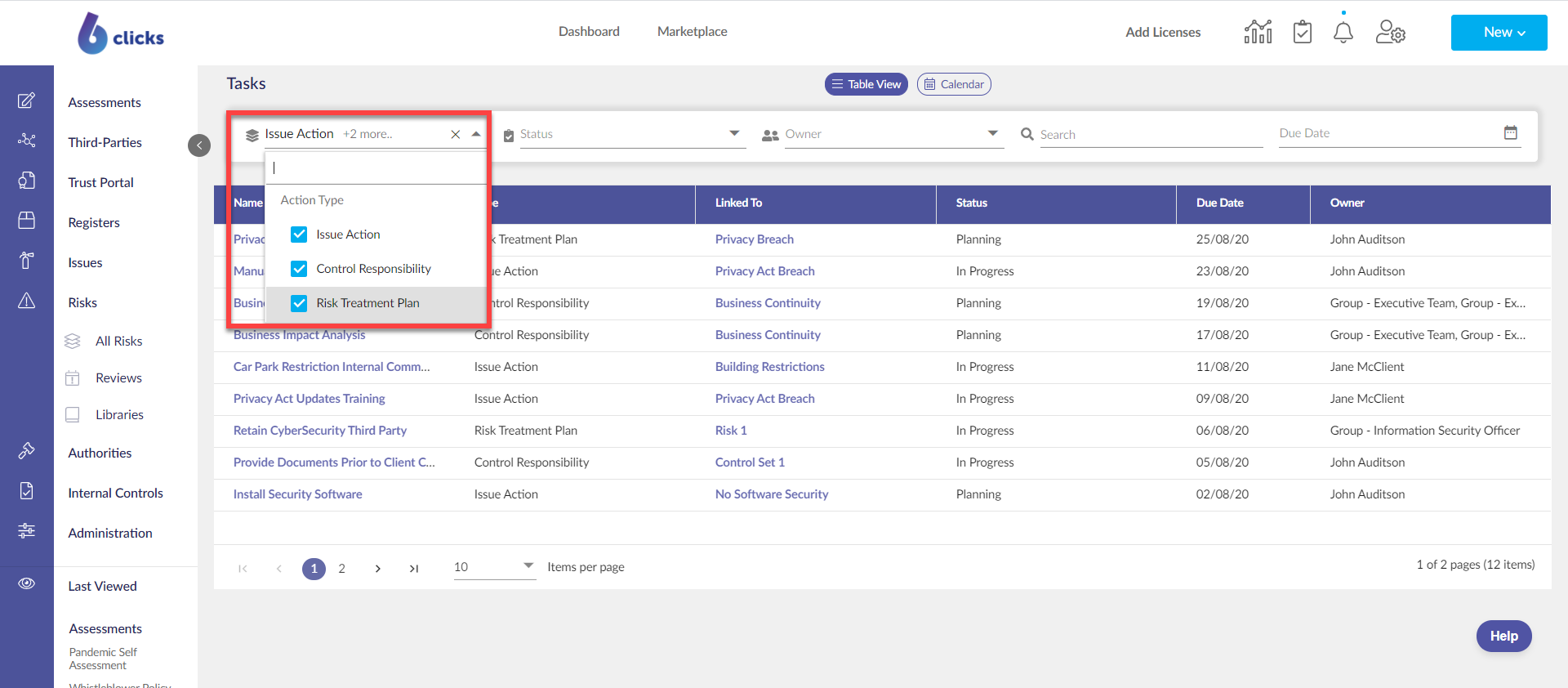 Action Status - Planning, In Progress, Review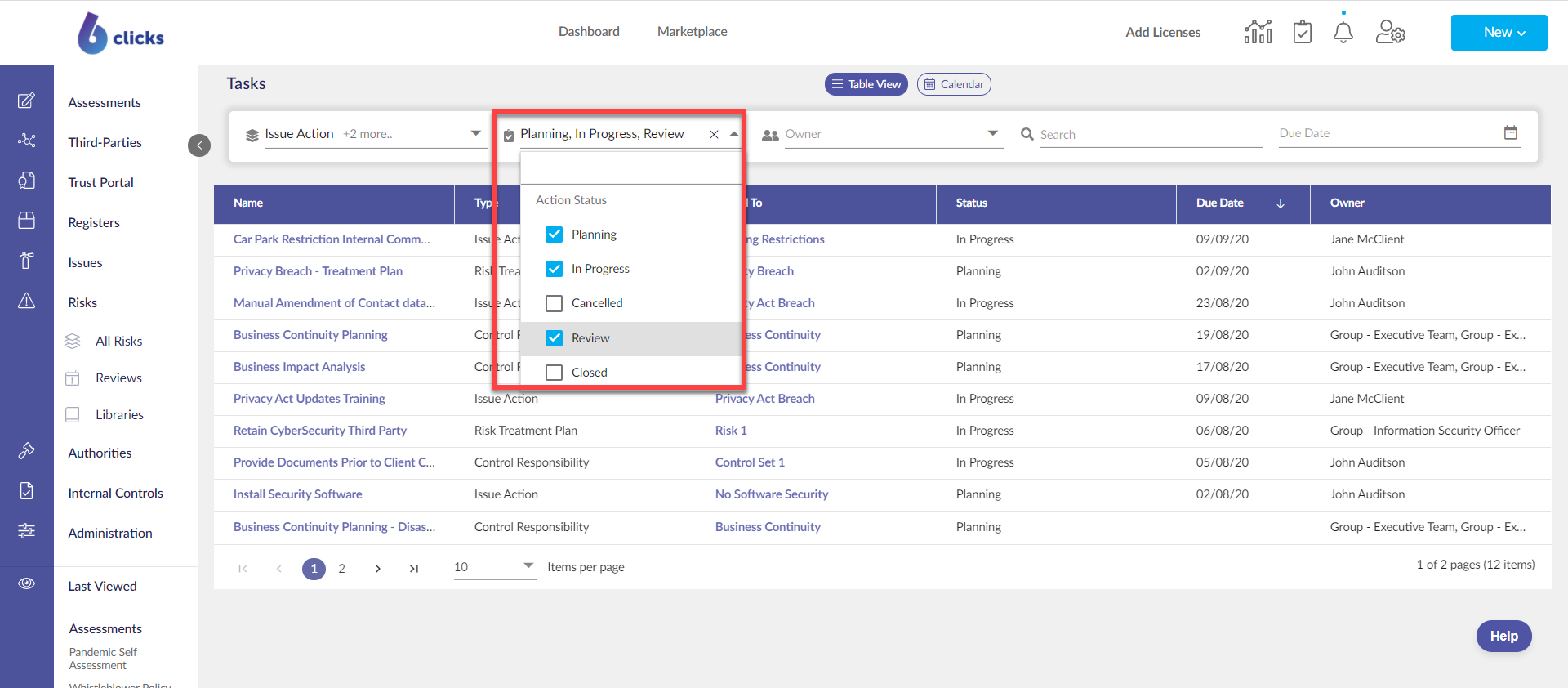 Owner - Jane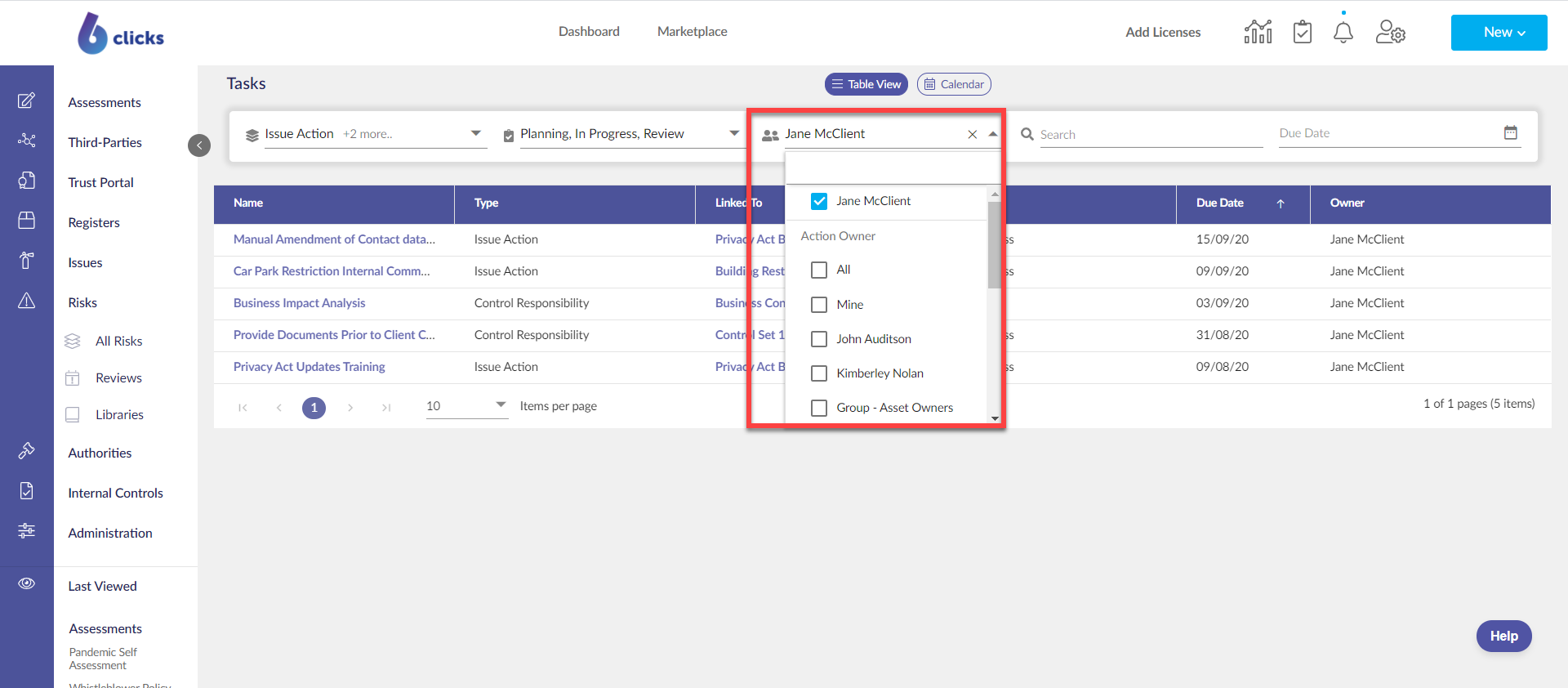 Sort Due Date by Descending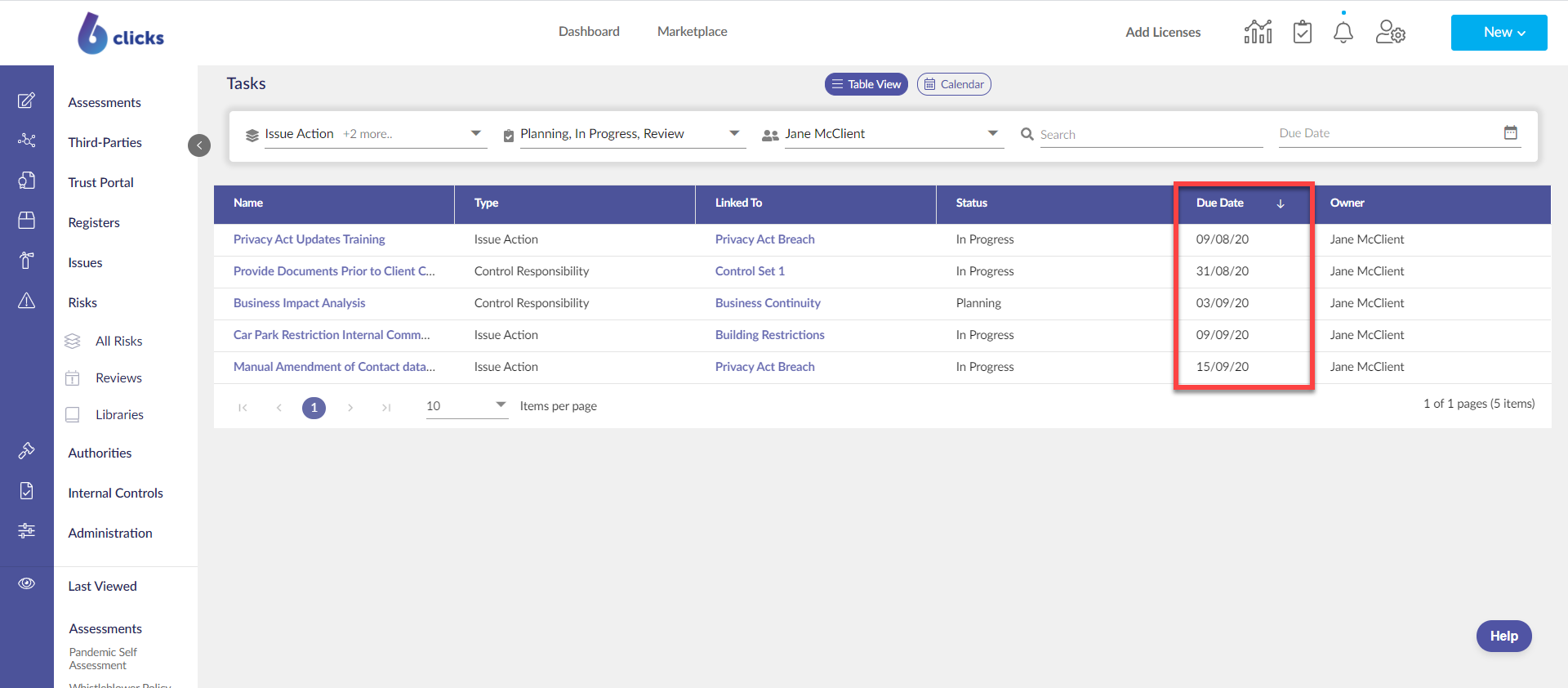 Filter Due Date by This Week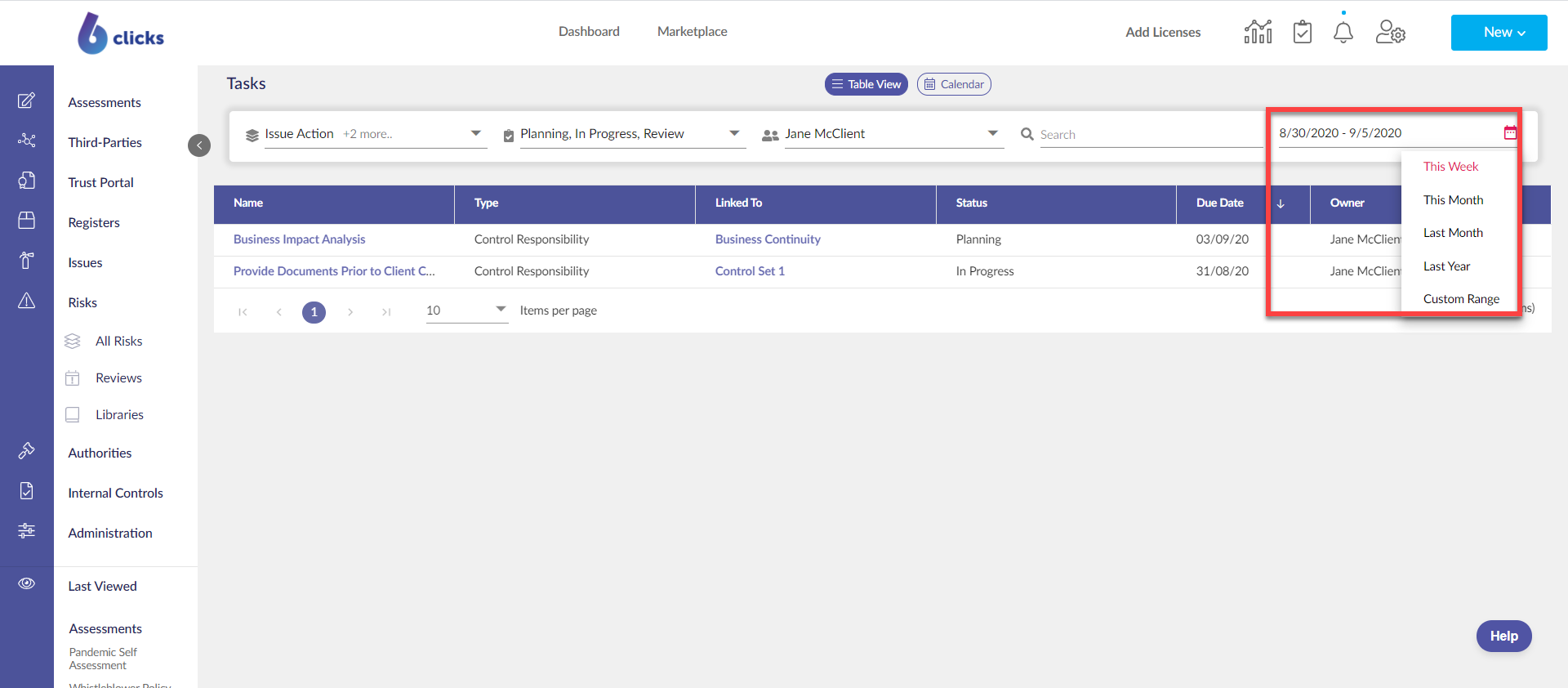 Any filter options previously selected will be shown at the top of the drop-down menu so you can easily edit or view data filtered out
This gives you transparency over the data set you are viewing, and the options to edit or remove filters as required
Calendar View
A great time management assistive feature in Tasks is the Calendar View option, simply select the Calendar button at the top centre of your Tasks screen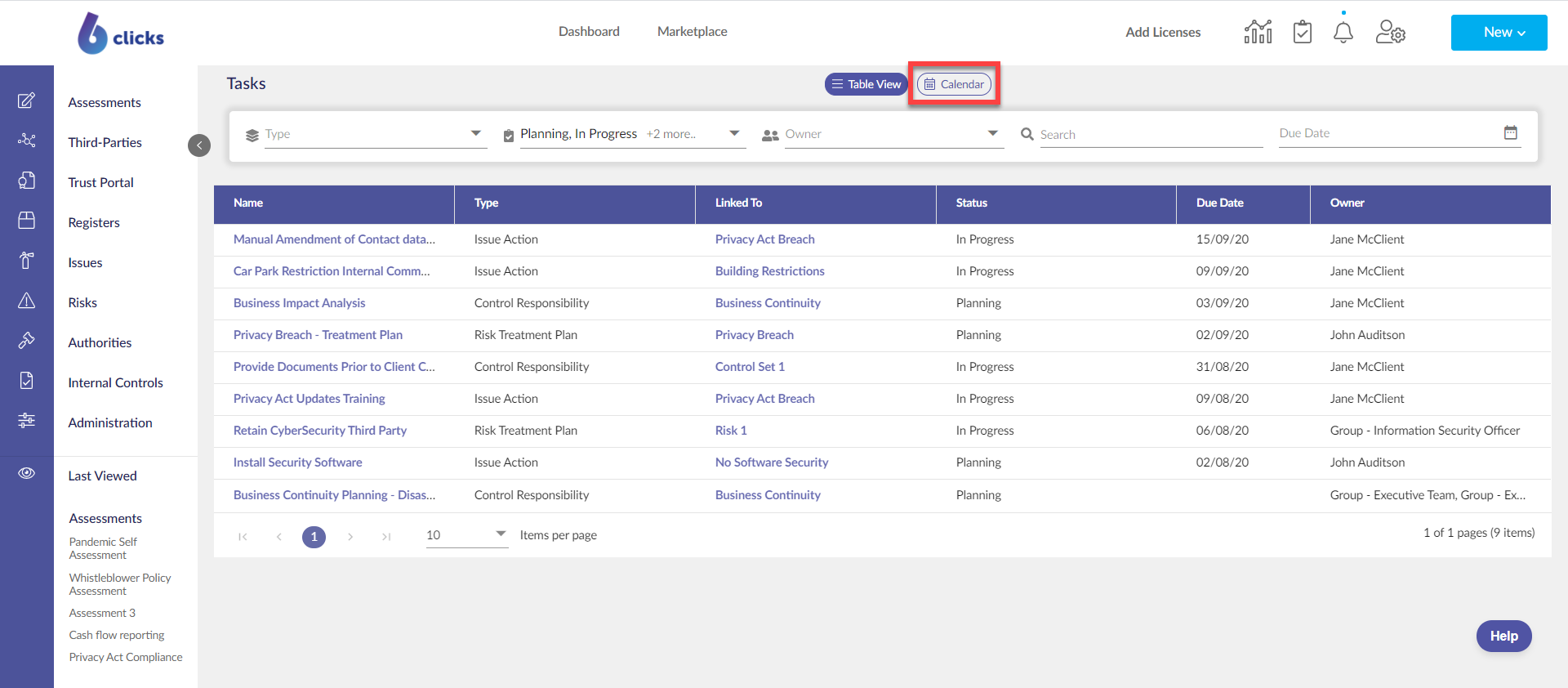 You can view all Tasks using this view to assist with long term planning and time management, this feature also has all of the functions available in the Tasks Filter and Search panel at the top of the Tasks screen