This article provides an overview of how to set up risk reviews for your client.
6clicks offers you the ability to create custom Risk Libraries (or use ours) and run Risk Reviews with your clients or prospects. A Risk Review consists of:
Risk identification - here the user identifies the risks relevant to their organisation
Risk assessment - here the user assesses (likelihood and impact) of the risks they have identified
Reporting - access and view the risk matrix
Running Risk Reviews in 6clicks is designed to be team-based, meaning that any number of participants can be invited to complete the same Risk Review, giving you powerful insights from across the business.
It's important to note that Risk Reviews can be created in either the web app or mobile app, but currently, Risk Reviews can only be completed in the mobile app.
Use Cases
As a partner, you can use Risk Reviews as business development / lead generation tool or as part of an engagement.
Business Development / Lead Generation
In this scenario, as a partner you would create a Risk Review using either your own custom Risk Library or one of ours, then share the URL link with clients or prospects via email. They would then click on the link on their mobile phone, which would take them to download the mobile app. After opening the app, they would quickly create their own account and land directly in the Risk Review ready for completion.
Typically in the Business Development / Lead Generation use case, the link is bulk sent to a number of clients or prospects and the power of running Risk Reviews in 6clicks is that we provide you with powerful aggregated Risk Matrix reporting across all the participants in the partner team account.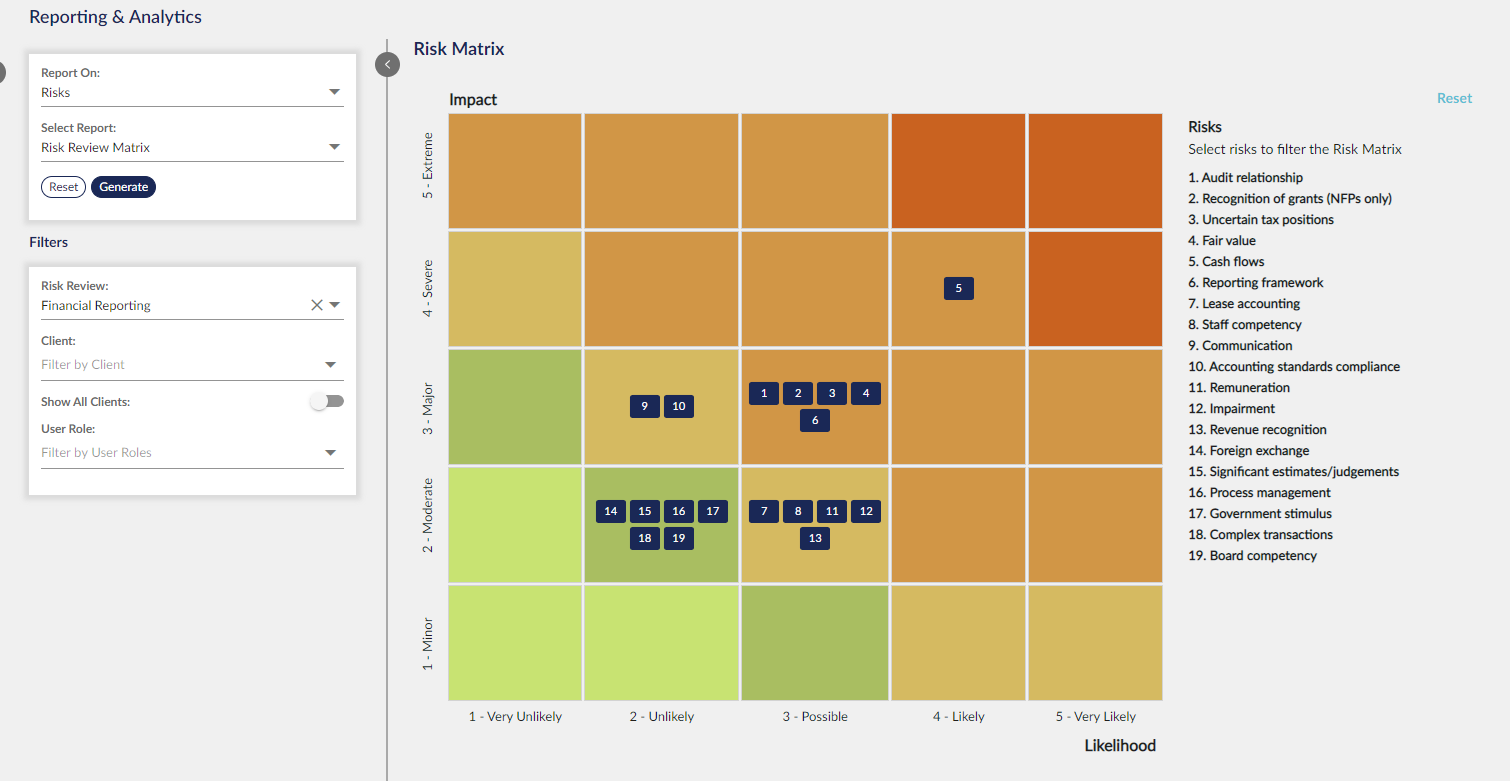 The steps to running Risk Reviews as a business development / lead generation tool:
Part of an Engagement
In this scenario, the client creates a Risk Review within their own team account using the partner's Risk Libraries. The final Risk Matrix would only show the Risk Review results of the team that created and completed the Risk Review and these results would be displayed in the client team account.
It's important to note that any Risk Libraries created in the partner team will be available in the client team to create their own Risk Reviews from.
The steps for a client to complete a Risk Review:
After the Risk Review: Risk Management
Any risks that are identified within a client team during a Risk Review for either scenarios appear on their respective Risk Register. What's more, the average team risk assessment will also be carried through.
Identifying and assessing risks is only the first part of the risk journey. The next step is risk management. To learn more about the Risk Register and risk management, head here.