Released December 2021, there are some changes to the functionality and commercial model related to client licensing for 6clicks partners. This article provides a summary of these changes and answers related to frequently asked questions.
In summary, what are the major changes with this release?
The pricing plan (Growth 0r Starter) for the client will need to be chosen by the advisors at the time of client creation.
Growth and Starter plans include a 14 day free trial for clients as soon as client users are added.
Billing is automated and invoices are sent to resale partners with appropriate partner discounts applied based on the Partner Tier. Clients of referral partners manage their billing directly.
Lastly, when creating a client template, the billing plan will need to be selected.
What are the implications of the new changes?
Response only users can be invited to client team WITHOUT triggering the two week free trial and subsequent mandatory upgrade.
As soon as a full client user is added, then the two week free trial begins .
Once the two week free trial ends, full client users are transitioned to response only users with the ability to upgrade whenever they want.
After the two week free trial the client team is still usable by advisors and response only users.
How does the new client creation user interface work?
The "create new client" interface will be a new look and experience as shown below.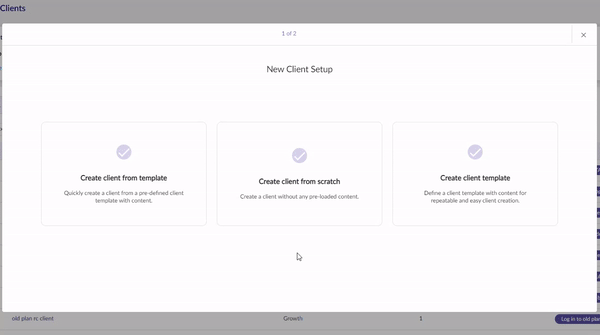 There are three major steps in the process:
Select the plan (either Startup or Growth).
Enter client details (name and users).
Select advisors to have access to the client account.
Further information on creating clients and client templates can be found here.
What prompted this change?
The goal was to bring our published
pricing
into alignment with the advertised product functionality and in-app licensing capability.
Is it possible to avoid the client having to use a credit card?
Yes, as a resale partner, we can change the billing arrangement so invoices can be sent to you, the partner.
For clients that prefer, we can also override the credit card requirement and send an invoice if the client prefers.
Who is impacted by this new License Model?
All partners who are onboarding clients for service delivery (ie. Assessments, GRCaaS, Managed GRC, etc.).